| | | |
| --- | --- | --- |
| Never miss another geomagnetic storm. Sign up for Space Weather Alerts and you'll receive a text message when magnetic storms erupt. Aurora tour guides and professional astronomers use this service. You can, too! | | |
CHANCE OF MINOR STORMS TODAY: NOAA forecasters say that minor G1-class geomagnetic storms are possible on Sept. 24th when a high-speed stream of solar wind is expected to hit Earth's magnetic field. The gaseous material is flowing from an equatorial hole in the sun's atmosphere. Aurora alerts: SMS Text.
FIRST AURORAS OF AUTUMN: How do you know it's autumn? Just look at the sky. Near Calgary, Alberta, Harlan Thomas photographed the fall colors on Sept. 23rd: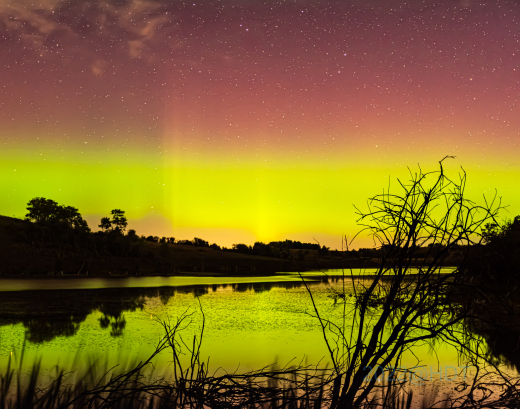 "What a way to herald the autumnal equinox!" says Thomas. "It was fantastic to see these beautiful auroras with uniquely colored pink pillars."
Thomas captured a phenomenon that sky watchers have known about for centuries, but science has only recently understood. Auroras love equinoxes. At this time of year, colorful lights can appear even without a geomagnetic storm.
Researchers call it the "Russell-McPherron effect." During the first weeks of autumn, cracks form in Earth's magnetic field. Even a slight gust of solar wind can slip through to spark auroras. This is exactly what happened on Sept. 23rd in Alberta. Happy Equinox! Aurora alerts: SMS Text.
more images: from Karsten Berger of Petkula, Finland; from Todd Salat in southcentral Alaska
Realtime Aurora Photo Gallery
Free: Spaceweather.com Newsletter
THE SUN SHOOTS LIKE AN IMPERIAL STORM TROOPER: Shoot, shoot. Miss. Yesterday, Sept. 23rd, a pair of bright CMEs left the sun. Both are off target: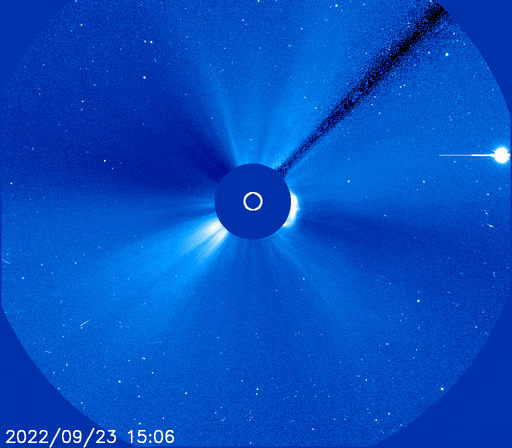 The CME on the right is debris from an exploding magnetic filament. The CME on the left came from new sunspot AR3110; an M1-class solar flare hurled it into space. The bright light at 3 o'clock is Venus. None of these things will hit our planet.
The sun can't keep missing forever, can it? Active sunspot AR3110 is turning toward Earth and will soon be in the strike zone. Stay tuned. Aurora alerts: SMS Text.
Realtime Space Weather Photo Gallery
Free: Spaceweather.com Newsletter
A DRAGONFLY IN THE STRATOSPHERE: Are you looking for a far-out gift? Consider the Sterling Silver Space Dragonfly. This winged pendant has flown 113,451 feet above the Sierra Nevada mountains of California, hitching a ride onboard an Earth to Sky Calculus cosmic ray balloon: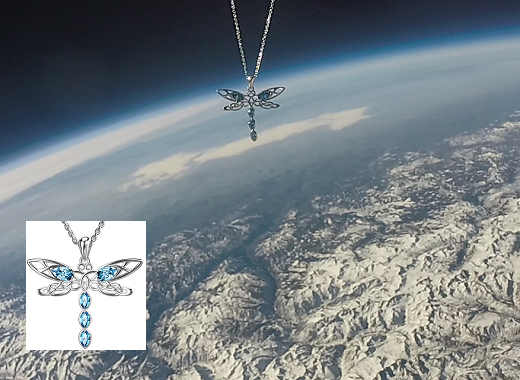 You can have it for $172.95. The dragonfly's heart is a Celtic love knot, and its wings are decorated with blue marquise crystals--all plated with 14k white gold. It's an exquisite ensemble for birthdays, anniversaries or any other romantic occasion.
The students are selling dragonfly pendants to support their cosmic ray ballooning program. Each one comes with a greeting card showing the pendant in flight and telling the story of its trip to the stratosphere and back again.
Far Out Gifts: Earth to Sky Store
All sales support hands-on STEM education
---
Realtime Aurora Photo Gallery
Free: Spaceweather.com Newsletter
Every night, a network of
NASA all-sky cameras
scans the skies above the United States for meteoritic fireballs. Automated software maintained by NASA's Meteoroid Environment Office calculates their orbits, velocity, penetration depth in Earth's atmosphere and many other characteristics. Daily results are presented here on Spaceweather.com.
On Sep 24, 2022, the network reported 27 fireballs.
(27 sporadics)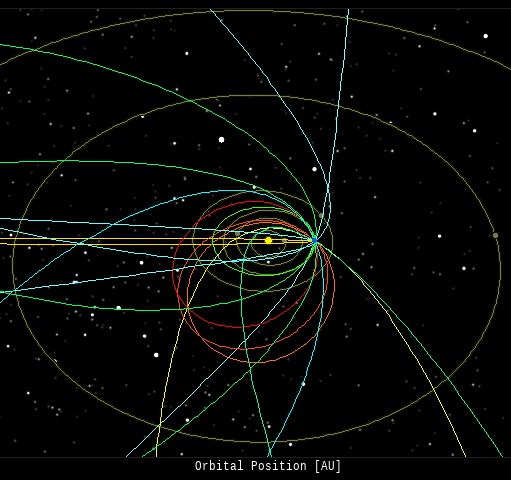 In this diagram of the inner solar system, all of the fireball orbits intersect at a single point--Earth. The orbits are color-coded by velocity, from slow (red) to fast (blue). [Larger image] [movies]
Potentially Hazardous Asteroids (
PHAs
) are space rocks larger than approximately 100m that can come closer to Earth than 0.05 AU. None of the known PHAs is on a collision course with our planet, although astronomers are finding
new ones
all the time.
On September 24, 2022 there were
2294
potentially hazardous asteroids.

Recent & Upcoming Earth-asteroid encounters:
Asteroid

Date(UT)

Miss Distance

Velocity (km/s)

Diameter (m)

2022 SF

2022-Sep-19

14.6 LD

16.8

25

2022 SF6

2022-Sep-19

3.1 LD

12.4

11

2022 QJ50

2022-Sep-19

11 LD

10.2

34

2022 SK4

2022-Sep-19

0 LD

13

3

2022 SC1

2022-Sep-20

14.3 LD

10.3

26

2022 SW1

2022-Sep-20

1.8 LD

10.1

10

2022 SH

2022-Sep-20

7.9 LD

7.6

11

2022 SA1

2022-Sep-21

18.8 LD

14.1

33

2022 SR2

2022-Sep-21

1.2 LD

21.7

9

2022 SK1

2022-Sep-22

7.1 LD

8.4

29

2022 SG3

2022-Sep-22

1.7 LD

10.8

14

2022 ST1

2022-Sep-22

4 LD

13.5

13

2022 SG

2022-Sep-22

7.3 LD

19.6

45

2022 QH8

2022-Sep-22

10.6 LD

15.3

52

2022 SW3

2022-Sep-23

7.2 LD

8.7

38

2022 QK36

2022-Sep-23

18.7 LD

3.7

22

2022 SP

2022-Sep-24

9.2 LD

9.8

13

2022 SK

2022-Sep-24

18.1 LD

16.6

50

2022 RM

2022-Sep-25

14.2 LD

10

31

2022 SK6

2022-Sep-25

2.7 LD

3.9

11

2022 SL1

2022-Sep-25

9.3 LD

8

22

2022 SU1

2022-Sep-25

4 LD

14

16

2022 SE6

2022-Sep-26

4 LD

4.2

25

2022 SR4

2022-Sep-26

7.9 LD

11

24

2022 SY4

2022-Sep-26

2.4 LD

11.8

10

2022 SY2

2022-Sep-27

18.8 LD

12.8

46

2022 SZ2

2022-Sep-27

1.5 LD

3.6

10

2022 ST3

2022-Sep-27

18 LD

17.5

32

2022 SD4

2022-Sep-27

10.7 LD

9.8

18

2022 SP4

2022-Sep-27

15.6 LD

13.2

52

2022 SO4

2022-Sep-28

13.6 LD

11.5

27

2022 SP1

2022-Sep-28

19 LD

4.6

20

2022 ST7

2022-Sep-28

10.8 LD

5.2

30

2022 SZ

2022-Sep-28

13.7 LD

7.4

18

2022 SR1

2022-Sep-29

12.1 LD

6

25

2016 HF2

2022-Sep-29

19.2 LD

5.6

21

2022 SU7

2022-Sep-30

2 LD

4.9

7

2018 ER1

2022-Oct-02

14.7 LD

4

27

2018 VG

2022-Oct-05

18.5 LD

6.7

12

2021 TJ10

2022-Oct-06

19.6 LD

8.1

6

2013 TJ6

2022-Oct-07

11.7 LD

14.4

32

2022 RA5

2022-Oct-12

13.2 LD

5.1

38

2022 SG6

2022-Oct-13

15.7 LD

10.9

89

2013 SL20

2022-Oct-14

6.2 LD

12.1

45

2020 TO2

2022-Oct-15

1.4 LD

12.6

18

2020 BD

2022-Oct-16

12.1 LD

11.4

20

2022 QM6

2022-Oct-17

19.8 LD

4.2

69

2022 RB5

2022-Oct-22

13.1 LD

5.3

115

2005 AZ28

2022-Oct-24

11.5 LD

5.4

48

2016 TH94

2022-Oct-25

19.1 LD

13.5

43

2019 AN5

2022-Oct-27

20 LD

6.8

215

2004 UT1

2022-Oct-29

4 LD

6.3

17

2021 VH

2022-Nov-01

5.9 LD

5.3

4

2022 RM4

2022-Nov-01

6 LD

23.5

443

2020 WD

2022-Nov-08

3 LD

6

8

2019 XS

2022-Nov-10

16.7 LD

11.9

60

2019 VL5

2022-Nov-15

8.5 LD

8.1

24

2018 WH

2022-Nov-16

2.5 LD

7.7

4

2019 OR1

2022-Nov-21

18.1 LD

13.4

246