SUNSET PLANETS: This week, Venus and Mercury are putting on a show in the sunset sky. Look low and due west as soon as the sun goes down. Venus pops out of the twilight first followed by Mercury only a degree below Venus. They're a pretty pair: sky map.
SOLAR WIND, IMPACT: What happens when a gust of solar wind hits Earth? It rattles the planetary magnetic field. That's exactly what happened yesterday, August 18th, and at a magnetic observatory in Lofoten, Norway, researcher Rob Stammes recorded the impact:
"The red line shows how the local magnetic field was swinging back and forth," he explains. "The blue line traces ground currents-- electricity in the soil induced by changing magnetism." To sum it up, he recorded a geomagnetic storm. "Unfortunately, the sky was too light to see the Northern Lights."
The solar wind continues to blow and more gusts are possible tonight. And if one arrives after dark? Whet your appetite in the gallery:
August 2008 Aurora Gallery
[Aurora alerts] [Aurora cameras]
UFO CLOUD: This past weekend in Pucking, Austria, Thomas Puehringer saw some strange clouds approaching his neighborhood. "It was like a UFO," he says.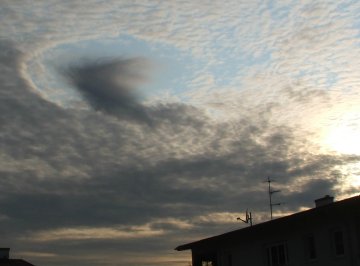 The common name for this phenomenon is "hole punch cloud," although "UFO" might be even better: Unidentified Falling Object. Something is falling through the cloud deck, making a large circular opening in the gray fluff. But what?
No one knows the answer with certainty, but a favorite idea is ice crystals: A high-flying plane makes an icy contrail. The contrail falls and hits the cloud deck below creating the telltale circle. An alternate explanation has the airplane itself flying through the clouds.
UFO cloud, indeed!
---