LIVING WITH A STAR: What if you woke up one morning and found your whole planet had been swallowed by the atmosphere of a star? Don't laugh, it could happen to you, and NASA has a special program to deal with it: full story.
SUNSET PLANETS: This week, two bright lights are beaming through the sunset. "Venus and Mercury looked great together this evening," reports Becky Ramotowski, who sends this twilight photo from Tijeras, New Mexico: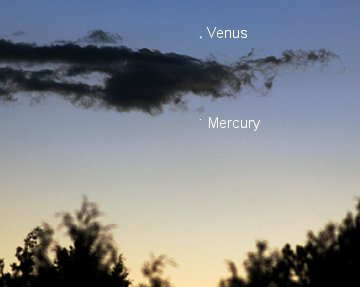 Tonight, August 20th, the two planets are at closest approach--only 1o apart. To see them, look low and due west immediately after sunset. Venus pops out of the twilight first, followed by Mercury a short while later. The view through binoculars is dynamite.
more images: from Troy Arkley of Wellington, New Zealand; from Ian Cooper of Glen Oroua, Manawatu, New Zealand.
THERE'S A MOON IN MY WATER! Last night in Esfahan, Iran, photographer Pouyan Shahidi glanced into his cup of water and found ... the Moon: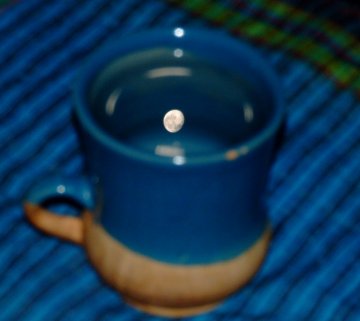 It's practically a non sequitur. Except for relatively small amounts of ice that might exist near the lunar poles, the Moon is bone dry. Floating in water is the last place you'd expect to find it.
"Water has always been precious in Iran," notes Shahidi. "Ancient Persians invented the underground aqueduct called Kariz or Qanat. By building aqueducts underground, they could convey subterranean water from the heart of mountains to dry lands where great cities, vast farms and famous 'Persian gardens' were cultivated. The cloth in this photo is made in Varzaneh, a village near one of deserts of Iran where people really appreciate the value of H2O. A reflection of the dry, lifeless Moon in a Persian clay cup full of water reminds us how important water is to the green lands of Earth."
---