AURORA WATCH: High latitude sky watchers, be alert for auroras tonight. Earth is entering a solar wind stream, and the encounter could spark geomagnetic storms: gallery.
WEEKEND ECLIPSE: On Saturday, Aug. 16th, Earth's shadow fell across the Moon producing a partial lunar eclipse visible from every continent except North America. Italian photographer Marco Fulle calls this photo of the event Miss Eclipse: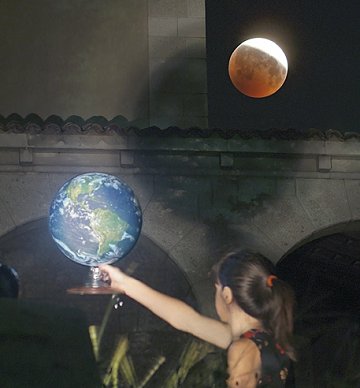 "Local students put on a show demonstrating how eclipses work," he explains. "As part of the project, they had to calculate the geometry of a simulated eclipse. The shadow made by their classroom globe, for instance, had to be 38 times the size of the globe itself to match Earth's actual shadow. Then they had to find a local building with the right orientation and architecture for shadow casting. The New Church of San Giovanni near Trieste, Italy, was selected for this purpose."
"The final result was a projected shadow so perfectly matching the real Earth one, that the student holding the globe seemed to be the real actor responsible of the ongoing eclipse," marvels Fulle.
Congratulations, Miss Eclipse, on a job well done! More information about the performance may be found on page 4 of the eclipse gallery:
Aug. 16th Lunar Eclipse Gallery
[Interactive Eclipse Map]
PERSEID ECHOES: In a remote corner of New Mexico, amateur astronomer Thomas Ashcraft has found that he can tell when a meteor is shooting overhead with his eyes closed. You can do it, too. Position your mouse over the image below. Close your eyes, and click:
Did you hear it? About 16 seconds into movie, a Perseid fireball split the screen and produced an eerie warbling sound.
"That sound was a radio echo, caused by distant radio stations bouncing off the meteor's trail," explains Ashcraft, who operates a combo all-sky camera and radio meteor monitoring station at his home in New Mexico. He recorded the fireball during the peak of the Perseid meteor shower on August 13th.
When meteors cut through Earth's atmosphere, they heat the air enough to break apart atoms and molecules, producing an electrically-charged plasma that reflects radio waves. Ashcraft's receivers picked up echoes at 61 MHz (TV channel 3) and 83 MHz (TV channel 6). "For full effect, try listening with stereo headphones," he advises (61 MHz is in the left channel, 83 MHz in the right). "My complete collection of Perseid echoes can be found here."
2008 Perseid Meteor Gallery
[Previous Perseids: 2007, 2006, 2005, 2004, 2002, 2001]