Would you like a phone call when geomagnetic storms erupt? Sign up for Spaceweather PHONE.
FAST SOLAR WIND: A high-speed solar wind stream is pushing against Earth's magnetic field. It's been doing this for days. So far, however, the wind has produced few auroras. The stream is too thin and too steady to cause an intense geomagnetic storm.
GEMINID FIREBALL: "I was trying to photograph some faint auroras at 1 o'clock in the morning on Dec 11th when this beautiful meteor streaked through the sky above my neighborhood," says Tony Wilder of Chippewa Falls, Wisconsin: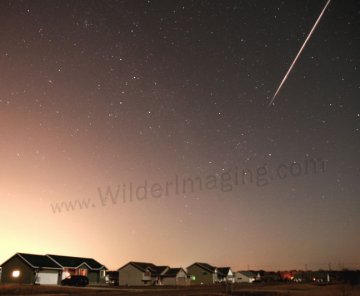 Photo details: Canon 30D, f2.8, ISO 1000, 17mm lens
"You can also see the city glow to the west," he adds.
Wilder's photo is a sign that the Geminid meteor shower is underway. It happens every year in mid-December when Earth glides through a cloud of debris trailing asteroid 3200 Phaethon. The shower will intensify in the nights ahead, peaking on Thursday, Dec. 14th: full story.
BROODING SUNSPOT: One week ago today, sunspot 930 unleashed an X9-class solar flare--one of the strongest flares in years. Since then it has become strangely quiet. The sunspot's tangled magnetic field still harbors energy for X-flares, but ... no flares.
Meanwhile, photographers are enjoying the view. Gary Palmer of Los Angeles took this picture of sunspot 930 yesterday: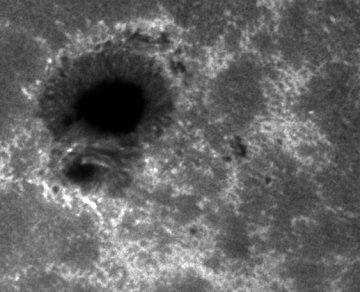 Fact: Sunspot 930 is three times as wide as Earth.
He used a Coronado Calcium K filter to reveal not only the sunspot's dark core but also the bright magnetic froth surrounding it. Solar physicists call the froth, which surrounds most great sunspots, plage, French for beach.
Will this beautiful spot explode again? Stay tuned.