Would you like a call when auroras appear over your hometown? Sign up for Spaceweather PHONE.
METEOR SHOWER: The Geminid meteor shower peaks tonight. Start watching around 9 p.m. local time on Wednesday, Dec. 13th. The display will start small but grow in intensity as the night wears on. By Thursday morning, Dec. 14th, people in dark, rural areas could see one or two Geminids every minute. [full story] [sky map]
X-FLARE: Sunspot 930 has unleashed another big solar flare, an X3-class explosion at 0240 UT on Dec. 13th. In Huirangi, New Zealand, photographer Andy Dodson caught the spot in mid-flare:


Photo details: Dec. 13, 2006, 0350 UT; Coronado SolarMax40, Stellarvue 80.
As a result of the blast, a radiation storm is underway. Based on the energy and number of solar protons streaming past Earth, NOAA ranks the storm as category S2: satellites may experience some glitches and reboots, but astronauts are in no danger.
The explosion hurled a coronal mass ejection toward Earth: movie. Sky watchers should be alert for auroras when it arrives on Dec. 14th. (Note: In the movie, the CME is barely visible through a snowstorm of streaks and speckles. That "snow" is caused by solar protons peppering SOHO's digital camera.)
PASTEL SUN: "I've been watching sunspot 930 since it first appeared last week," says artist Mark Seibold of Troutdale, Oregon. Inspired by the view through his Coronado SolarMax40, he made these pastel sketches: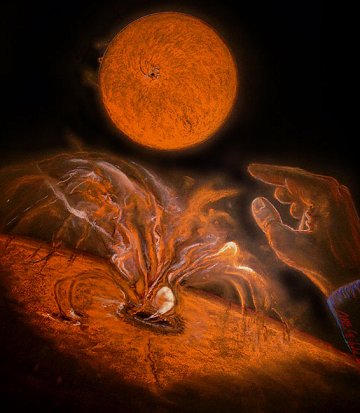 Magnetic fields and hot plasma emerging from the sunspot's dark core reminded Seibold of "anatomical forms being born from a black pool. It conjures up William Herschel's assertion that 'the sun is richly stored with inhabitants.'"
Clearly, the sun's not just a star--it's a muse. Solar activity is surging, so grab your pastels.