Would you like a phone call when geomagnetic storms erupt? Sign up for Spaceweather PHONE.
GEMINID METEORS: The Geminid meteor shower is underway. It's weak now; Earth is just beginning its entry into the Geminid meteoroid stream. As the week progresses, rates will increase, peaking on Thursday morning, Dec. 14th, when sky watchers could see as many as 120 meteors per hour: sky map.
NIGHT LAUNCH: The Geminids are coming, but "this is not a Geminid," says Mark A. Brown at Tyndall AFB in the Florida Panhandle. "It's the night launch of the Space Shuttle Discovery."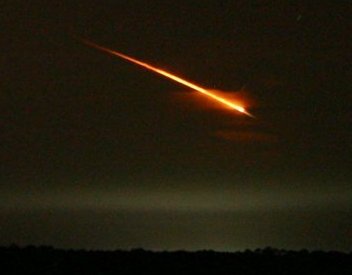 Photo details: Canon Digital Rebel, ISO 1600, 50mm lens, f/5.
Brown took the picture 400 miles from the Kennedy Space Center where the shuttle lifted off on Dec. 9th. "It was incredibly bright," he says. The shuttle's engines were like "a -5 magnitude Iridium flare flickering in the night sky--much brighter than Jupiter or Venus." Onlookers saw it as far away as New York.
STS-116 Night Launch Photo Gallery
BONUS: Turn up the volume. Photographer Mike Theiss was at the Kennedy Space Center and he recorded the sound of the shuttle's engines: listen. "The crackling you hear is not a distortion. The launch really did sound like that," he says. "It was awesome."
MORNING PLANETS: It's not easy, waking up early on a Sunday morning. Yesterday wasn't so bad. Early risers on Sunday, Dec. 10th, saw a beautiful alignment of Mercury, Jupiter and Mars in the dawn sky: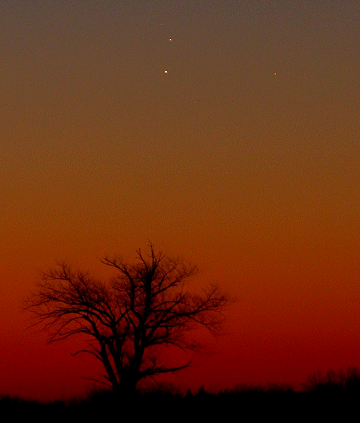 "It was a great morning to see the planets," says photographer William Biscorner of Memphis, Michigan. "Clear and cold!"
more images: from Rob Ratkowski and Robert Zaleski at the Haleakala High Altitude Observatory in Maui; from Wayne Wooten of Pensacola, Florida; from Brad Hoehne of Columbus, Ohio; from Brad Timerson of Newark, New York; from Vincent Jacques near Menton, France; from Philip Harrington of Miller Place, New York; from David Harvey of Tucson, Arizona; from Elizabeth Warner of Alexandria, Virginia; from Ginger Mayfield of Divide, Colorado; from Kevin Jung near Grand Rapids, Michigan; from Scott Manly on the north bank of the Grand River in Ionia, Michigan; from Jim Kurtz of Kalamazoo, Michigan; from Phil Yabut of Arlington, Virginia; from Henk Bril of Nieuwstadt, the Netherlands; from Mike Hutchinson of Muncie, Indiana; from Denny Bodzash of Henrietta, Ohio.