Where's Saturn? Is that a UFO--or the ISS? What's the name of that star? Get the answers from mySKY--a fun new astronomy helper from Meade.

NEW SUNSPOT: At first, John Nassr thought there was "a smudge on the eyepiece" of his solar telescope, but it turned out to be a newly-emerging sunspot. "Sunspot 982 is growing rapidly," he reports. This photo from his backyard observatory in the Phillipines reveals two flamboyant magnetic filaments emerging from the spot's dark core. So far the active region poses no threat for solar flares.

more images: from Pete Lawrence of Selsey, West Sussex, UK; from J. Fairfull and J. Stetson of South Portland, Maine;

ASTEROID FLYBY: Asteroid 2007 TU24 flew past Earth yesterday only 344,000 miles away. In Utah, Patrick Wiggins took 26 quick exposures through his 14-inch telescope and caught the space rock streaking among the stars of Perseus: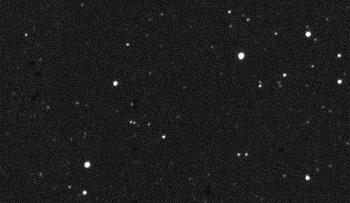 As 2007 TU24 passed by, the giant Arecibo radar in Puerto Rico illuminated it with powerful radio pulses and obtained a rough image of the craggy 250m-wide rock. More radar observations are planned for Feb. 1-4, so the view may improve. Stay tuned for updates.
more images: from Oscar Canales Moreno of Pinsoro, Zaragoza, Spain; from Saied Bahrami Nezhad of Kerman, Iran; from Paolo Berardi of L'Aquila, Italy; from Thorsten Boeckel of Fuerstenfeldbruck, Bavaria; from Adam Stuart, M.D. of Miami, Florida;
SPACESHIP SIGHTINGS: North Americans, this is a good week to see a spaceship with your own eyes. The International Space Station is making many bright evening passes over towns and cities across the continent: flyby alerts. Joseph Westerberg sends this Jan. 28th photo from the Joshua Tree National Park in California: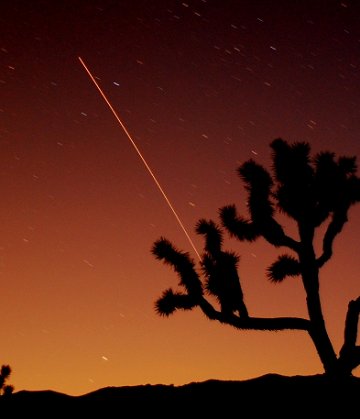 "The ISS was very bright, approximately magnitude -2.3," he says. That makes the station about as luminous as the planet Jupiter. It was easy to photograph "using my Nikon D80 for an exposure of 79 seconds."
The under-construction station has grown so big and bright in recent months that it is now a fabulous sight through ordinary backyard telescopes. Last month in Australia, Mike Salway captured these images using a 12-inch Newtonian. "Tracking the ISS manually and keeping the bright dot centered in the crosshairs was an adrenaline rush!" says Salway. He created an animation of the flyby to convey a sense of the thrilling view.
more images: from Gonçalo Lemos of Marinha Grande, Portugal; from Ralf Vandebergh of the Netherlands; from Wayne Wooten of Pensacola, Florida; from Dale Gerhard of Cape May Point State Park, Cape May, New Jersey;
---
2008 Nacreous Cloud Gallery
[Night-sky cameras] [Nacreous Basics] [Add your comments]