Where's Saturn? Is that a UFO--or the ISS? What's the name of that star? Get the answers from mySKY--a fun new astronomy helper from Meade.

ASTEROID FLYBY: Asteroid 2007 TU24 is flying past Earth today. There's no danger of a collision, but the 250m-wide space rock is close enough (1.4 lunar distances) to photograph through backyard telescopes as it speeds through the constellation Cassiopeia glowing like a 10th magnitude star. NASA radars are monitoring the flyby and may produce new images of the rock by week's end. [ephemeris] [3D orbit]

KERN ARC: To the casual observer, this photo of ice halos around the sun taken by Marko Mikkilä of Finland may not seem extraordinary, but to experts it is "the halo photo of the decade." The excitement springs from a faint circle around the zenith labeled "Kern arc":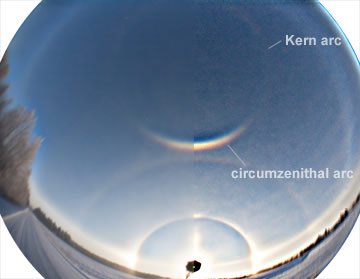 The rare Kern arc completes the circle of the much brighter and frequently seen circumzenithal arc. "Kern arc sightings are few indeed, only two or three reports in the last century, and it has never ever been photographed--until Mikkilä did it last Nov. 17th," says atmospheric optics expert Les Cowley.
"As a diamond dust swarm generated the halo, Mikkilä took dozens of images. The picture above is a stack of 16 images. Astronomers use stacking to reveal faint or elusive details and it does the same for halo displays. However, Mikkilä's Kern arc was so clear that it is visible on individual images."
"Why is the Kern arc so very rare? The arc has a ray path like that of the circumzenithal arc but with a crucial extra reflection inside flat plate crystals. The contorted path is not possible inside ordinary regular hexagonal plates, instead they have to be almost triangular. Mikkilä sampled and photographed under a microscope the crystals falling around him and lo, many had the required triangular shape."
"The next time you see a bright grin in the sky, look around for the complete circle," urges Cowley. "You might catch a Kern arc of your own."
Note: This photograph was first reported by Tähdet ja avaruus, the Finnish magazine of popular astronomy, in its Jan. 2008 issue.

NACREOUS CLOUDS: As January comes to an end, sky watchers in Scandinavia are recovering from a veritable storm of nacreous clouds. After mid-month, hardly a night went by without someone spotting the phenomenon. "It was incredible! They were all over the sky," says Morton Ross of Oslo, Norway. This picture, taken by Ross on Jan. 25th, shows a typical apparition: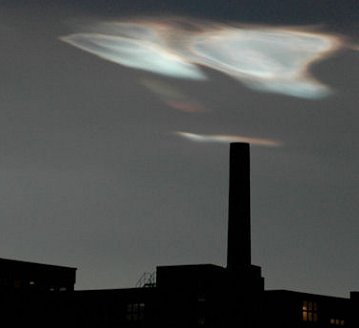 Also known as "Mother of Pearl" clouds, nacreous clouds are peppered with tiny ice crystals that blaze with iridescent color when struck by light from the setting sun. It is these crystals that make nacreous clouds so rare: they require exceptionally low temperatures of minus 85 Celsius (-120 F) to form. Icy nacreous clouds float 9 to 16 miles high, curling and uncurling hypnotically as they are modulated by atmospheric gravity waves.
For much of January, these clouds rolled across the Arctic circle with puzzling regularity. Why the sudden abundance? Is the show over? No one knows. Stay tuned for February!
2008 Nacreous Cloud Gallery
[Night-sky cameras] [Nacreous Basics]