Where's Saturn? Is that a UFO--or the ISS? What's the name of that star? Get the answers from mySKY--a fun new astronomy helper from Meade.

MERCURY SURPRISE: NASA's MESSENGER spacecraft has beamed back some surprising new data from the planet Mercury. Highlights include a weird crater nicknamed "the Spider," a planetary tail of hydrogen atoms, and measurements that show giant Caloris basin is even bigger than researchers imagined. Get the full story from Science@NASA.

MORNING SKY ALERT: Set your alarm for dawn. On Friday morning, February 1st, Venus and Jupiter converge in the southeastern sky less than 1 degree apart. It's a spectacular view worth waking up early to see: sky map.
From the shores of the Caspian Sea, Iranian photographer Babak Tafreshi sends this picture of the planets converging on Jan. 31: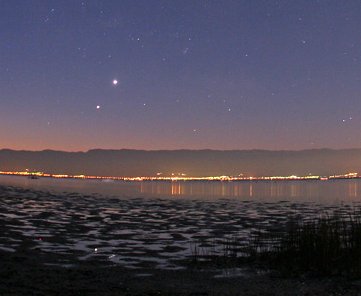 "The same view but in long exposure by Amir Hossein Abolfath, who was only few meters away, is very eye-catching, too," notes Tafreshi.
The February 1st alignment kicks off four mornings of beautiful views as the crescent Moon moves in to join Venus and Jupiter over the weekend. Watch them decorate the sunrise on February 1st, 2nd, 3rd and 4th.
more images: from Brian Whittaker flying 35,000 feet over eastern Quebec, Canada; from John Stetson of Portland, Maine; from John Baxter of New Concord, Ohio; from Martin McKenna of Maghera, Co. Derry, N. Ireland; from Phil Harrington of Miller Place, NY; from Dave Miller of Silver Creek Park, Norton, Ohio; from Bill Gucfa of Rehoboth, Massachusetts.
ZENITH LIGHTS: "Last night some strange lights appeared in the sky over my house," reports Hiroaki Ohno of Fukushima, Japan. "They had neon colors and were brighter than Mars or Capella." The slowly-changing apparition persisted for more than an hour and he had time to take several pictures using his Canon 40D: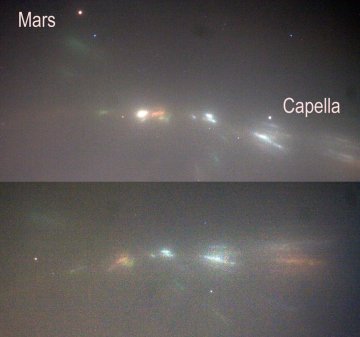 What were these celestial luminaries? Ordinary city lights.
Atmospheric optics expert Les Cowley explains: "Plate-shaped ice crystals floating horizontally in high clouds can act as millions of tiny mirrors. They reflect light to form subsuns, sun pillars and artificial light pillars. Here they have reflected the colorful city lights of Fukushima as streaks radiating outwards from the zenith."
Indeed, says Ohno, "there were some translucent icy clouds floating over the city and my neighborhood has many neon signs on convenience stores and colored lights on a nearby expressway." Icy clouds + neon lights = another reason to keep looking (straight) up.
---
2008 Nacreous Cloud Gallery
[Night-sky cameras] [Nacreous Basics] [Add your comments]