| | | |
| --- | --- | --- |
| ANDROID FLYBYS: Our field-tested satellite tracker is now available for Android phones. Features: Global predictions and flyby alarms! Learn more. | | |
ANOTHER DAY, ANOTHER ERUPTION: This morning, the sun produced another eruption just as impressive as yesterday's 'Towering Blast.' It occured in the vicinity of new sunspot 1092 on the sun's northeastern limb. NASA's Solar Dynamics Observatory recorded a must-see movie: 12 MB gif.
TOWERING BLAST: Yesterday, a magnetic filament curling over the southeastern limb of thee sun became unstable and erupted. The blast produced a towering curlicue prominence that "Dr Seuss would have loved," says Alan Friedman, who sends this picture from his backyard observatory in Buffalo, New York: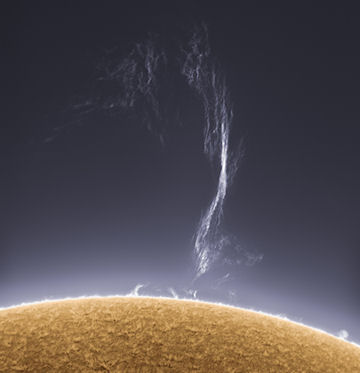 "It towered more than 200,000 miles above the stellar surface," says Friedman.
Astronomers around the world watched the structure twist, curl, and eventually fling itself into space over a six hour period. NASA's Solar Dynamics Observatory had the best view of all. Onboard cameras recorded an IMAX-quality movie of the event ... coming soon to a theatre near you? NASA is planning an IMAX movie about SDO, and this eruption will probably make the cut. Until then, enjoy these previews: 9 MB movie, 15 MB slow-motion movie.
more images: from Pete Lawrence of Selsey, West Sussex, UK; from David Evans of Coleshill, North Warwickshire, UK; from Steve Rismiller of Milford, Ohio; from A. Cote, S.Berube and J.Stetson of South Portland, Maine; from Patrick Bornet of Saint Martin sur Nohain, Nièvre, France;
SUMMER LIGHTS: A high speed solar wind stream is buffeting Earth's magnetic field, and this is causing geomagnetic activity around the poles. Zoltan Kenwell of Edmonton, Alberta, witnessed this display on July 27th: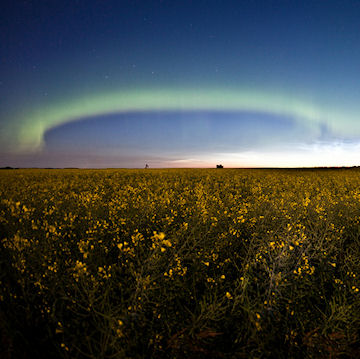 "It was a beautiful night on the Alberta prairies," says Kenwell. "Aurora activity was subtle, but definitely present. The full Thunder Moon was lighting up the canola fields and the arrival of a few noctilucent clouds just put the icing on the cake!"
High-latitude sky watchers should remain alert for auroras as the solar wind continues to blow.
more images: from Vincent Calkins of St. Albert, AB Canada
---
Solar Eclipse Photo Gallery
[NASA: South Pacific Eclipse] [animated map]