| | | |
| --- | --- | --- |
| ANDROID FLYBYS: Our field-tested satellite tracker is now available for Android phones. Features: Global predictions and flyby alarms! Learn more. | | |
CELESTIAL TRIANGLE: When the sun goes down tonight, step outside and look west. Venus, Saturn, and Mars have converged to form a skinny triangle in the sunset sky. Saturn and Mars are especially close together, only 2o apart for the next few nights. Sky maps: July 30, 31, August 1, 2.
triangle images: from Adrian New of San Antonio, Texas; from Carlos Caccia of Intendente Alvear, La Pampa, Argentina; from Vasilis Wooseas of Greece; from Mark Arzadon of San Jacinto, Pangasinan, Philippines; from Christopher Calubaquib of El Sobrante,California;
DEJA VU ERUPTIONS: On July 28th, magnetic fields on the sun's eastern limb became unstable and erupted, producing a towering prominence of surpassing beauty. On July 29th, it happened again. Click on the image to play a movie from NASA's Solar Dynamics Observatory (SDO):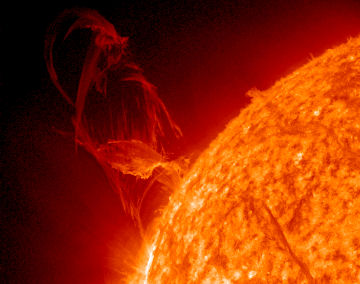 movie formats: 7.5 MB gif, 1.4 MB iPad, 0.6 MB iPhone
Neither eruption produced a bright flash of X-radiation. For that reason, solar activity on July 28th and 29th was officially classified by NOAA's Space Weather Prediction Center as "low" to "very low." It might be time to change the classification scheme. X-rays have long been used as a key measure of solar activity, but SDO is revealing many forms of activity that do not emit strong X-rays. The spectacular eruptions of the past two days are good examples.
Déjà vu movies: July 28, July 28 slow-motion, July 29.
SUMMER LIGHTS: A high speed solar wind stream is buffeting Earth's magnetic field, and this is causing geomagnetic activity around the poles. Zoltan Kenwell of Edmonton, Alberta, witnessed this display on July 27th: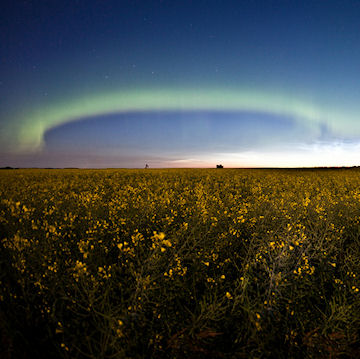 "It was a beautiful night on the Alberta prairies," says Kenwell. "Aurora activity was subtle, but definitely present. The full Thunder Moon was lighting up the canola fields and the arrival of a few noctilucent clouds just put the icing on the cake!"
High-latitude sky watchers should remain alert for auroras as the solar wind continues to blow.
more images: from Vincent Calkins of St. Albert, AB Canada
---
Solar Eclipse Photo Gallery
[NASA: South Pacific Eclipse] [animated map]