| | | |
| --- | --- | --- |
| ANDROID FLYBYS: Our field-tested satellite tracker is now available for Android phones. Features: Global predictions and flyby alarms! Learn more. | | |
METEOR SHOWER: The University of Western Ontario meteor radar is picking up strong returns from the Southern Delta Aquarid meteor shower, which peaks on July 28th and 29th. Sky watchers (particularly in the southern hemisphere) should be alert for meteors between about 10 pm and dawn. "Visual rates could be as high as 20 per hour," notes Bill Cooke of NASA's Meteoroid Environment Office, "although glare from the nearly full Moon will make the fainter meteors difficult to see."
SOLAR ACTIVITY: Readers with solar telescopes, train your optics on the sun's northeastern limb. A big sunspot with an active magnetic canopy is emerging there. And that's not all...
Today around 1200 UT, magnetic fields looping over the sun's southeastern limb became unstable and erupted. The blast produced a towering prominence dozens of times taller than Earth itself: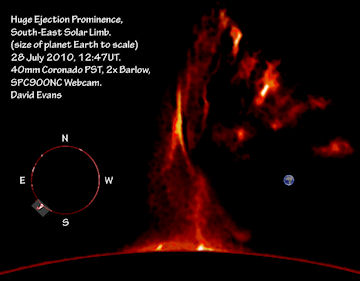 David Evans took the picture from his backyard observatory in Coleshill, North Warwickshire, UK. "This was a huge event," he says. "It just goes to show how the sun can surprise observers even at this 'low' phase of the solar cycle."
Stay tuned for movies of this event from the Solar Dynamics Observatory.
more images: from Alan Friedman of Buffalo, NY; from Pete Lawrence of Selsey, West Sussex, UK; from Steve Rismiller of Milford, Ohio; from A. Cote, S.Berube and J.Stetson of South Portland, Maine; from Stephen Ames of Hodgenville, Kentucky;
STRANGE SUNRISE: On Monday morning, July 26th, John Stetson woke up early to watch the sunrise over Casco Bay in Cape Elizabeth, Maine. He expected a pretty view. What he got was pretty strange: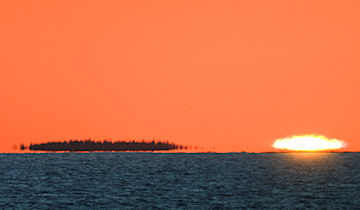 "The island appeared to be floating above the water," Stetson reports. "And the sun was as flat as a pancake!"
Atmospheric optics expert explains what happened: "Overnight the air above the ocean was abnormally cooled producing a temperature inversion, cool air below warmer. At sunrise the almost horizontal sun's rays were bent (refracted) as they passed between the different temperature layers to give us a mock mirage. The island was also miraged. The sea was not really choppy, that is the uneven edge of the mirage."
"At sunset the ocean sometimes produces a warmer air above it to give another type of mirage – an Etruscan vase," he adds. "Watch sunrise and sunset for magical effects!"
more images: from Lyle Anderson of Duluth, MN
---
Solar Eclipse Photo Gallery
[NASA: South Pacific Eclipse] [animated map]