| | | |
| --- | --- | --- |
| ANDROID FLYBYS: Our field-tested satellite tracker is now available for Android phones. Features: Global predictions and flyby alarms! Learn more. | | |
FALCON 9 REENTRY: According to US Strategic Command, SpaceX's Falcon 9 rocket reentered Earth's atmosphere on June 27th at 50 minutes past midnight UT (+/- 2 hours). Nominally, this puts the fireball somewhere over the Iraq-Syria border, although the 2 hour uncertainty means reentry could have happened almost anywhere along the rocket's ground track. The Falcon 9 and its companion the Dragon are of interest because they could become commercial successors to NASA's retiring space shuttle. This reentry was the expected conclusion to the Falcon 9's inaugural test flight.
LUNAR ECLIPSE: On Saturday, June 26th, the Moon passed through the shadow of Earth, producing a partial lunar eclipse. In Australia, Geoff Sims combined a series of images to reveal the outline of Earth's shadow: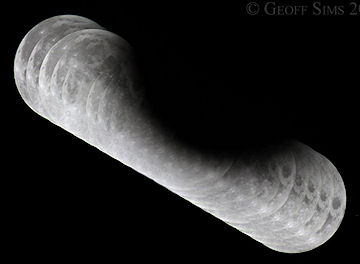 "The weather was perfect here in Sydney," says Sims. "I was able to photograph the entire eclipse."
His composite shows that the Moon passed through the shadow off-center. At maximum, only 54% of the lunar diameter was covered. In fact, Earth's shadow is big enough to swallow the entire Moon, and later this year it will. On Dec. 20th there will be a total lunar eclipse. Until then, browse the gallery:
NEW: Lunar Eclipse Photo Gallery
[Science@NASA: Big Lunar Eclipse] [astronomy alerts]
NEW SUNSPOT 1084: A new sunspot is rotating into view around the sun's southeastern limb. Rogerio Marcon sends this picture from his backyard observatory in Campinas, Brazil: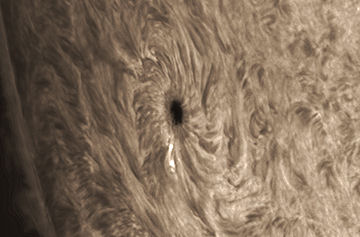 The sunspot's dark core is about the size of Earth, and it sits at the vertex of a massive swirl of hot gas. Extreme UV images from NASA's Solar Dynamiics Observatory reveal the million-degree whirlpool: click here. So far the sunspot has been relatively quiet, producing no flares of note, but this could change if the magnetic field becomes unstable. Readers with solar telescopes are encouraged to monitor developments.
more images: from John C McConnell of Maghaberry, Northern Ireland; from Howard Eskildsen of Ocala, Florida; from Peter Desypris of Island of Syros Greece; from Jan Timmermans of Valkenswaard, The Netherlands; from Britta Suhre of Rosenheim, Bavaria, Germany
---
May 2010 Aurora Gallery
[previous Mays: 2008, 2005, 2004, 2003, 2002] [aurora alerts]