| | | |
| --- | --- | --- |
| ANDROID FLYBYS: Our field-tested satellite tracker is now available for Android phones. Features: Global predictions and flyby alarms! Learn more. | | |
ISS MARATHON CONTINUES: The ISS continues to orbit Earth in almost constant sunlight, setting the stage for multiple bright flybys in the night sky. Some observers are seeing the space station as often as five times a night! A NASA all-sky meteor camera caught the ISS flying over Georgia on June 27th. "In the last few frames of the movie, the ISS has a close encounter with Jupiter followed quickly thereafter by a flare from Iridium 91," notes Bill Cooke of the Marshall Space Flight Center. "What are the odds of that?" When the ISS appears this often, the improbable becomes a lot more likely. See for yourself.
NOCTILUCENT CLOUDS: Northern Europe is experiencing an outbreak of electric-blue noctilucent clouds--the brightest of the year so far. "The display over Szubin, Poland, on June 27th was amazing," says photographer Marek Nikodem. "Here is a five second second exposure I made using my Nikon D700."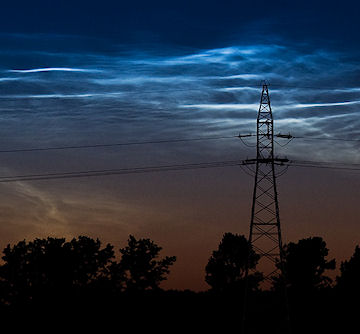 In Vilnius, Lithuania, noctilucent clouds filled half the sky on June 28th. "They were the brightest I've ever seen," reports Aurimas Dirse. "The electric-blue waves were visible all night long."
Some "great NLCs" materialized in Sweden, too, says P-M Hedén. "We especially enjoyed the view before dawn when Jupiter ascended amog the noctilucent clouds--really nice!"
Summer is the season for NLCs, and the recent solstice seems to have kicked these mysterious clouds into high gear. High-latitude sky watchers should be alert for electric blue after sunset.
more images: from Peter Rosén of Stockholm, Sweden; from Krzysztof Chomicki of Bielsk Podlaski, Poland; from Michal Laszczynski of Gdynia, Poland; from Adam Mazurkiewicz of Toruń, Kujawsko-Pomorskie, Polska; from Patryk Koniecki of Kwidzyn, Pomorskie, Poland; from Łukasz Strupiechowski of Halinów, Poland
NEW SUNSPOT 1084: Over the weekend, big new sunspot 1084 rotated into view over the sun's southeastern limb, and it is a nice target for backyard solar telescopes. Amateur astronomer Rogerio Marcon sends this picture from Campinas, Brazil: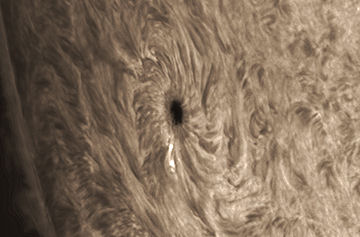 The sunspot's dark core is about the size of Earth, and it sits at the vertex of a massive swirl of hot gas. Extreme ultraviolet images from NASA's Solar Dynamics Observatory reveal the million-degree whirlpool. So far the sunspot has been relatively quiet, producing no flares of note, but this could change if the spot's magnetic field becomes unstable. Readers with solar telescopes are encouraged to monitor developments.
more images: from Neo of Netherlands; from Ingmar Glass of Germany, Bavaria, München and Weißenfeld; from Pete Lawrence of Selsey, West Sussex, UK; from Steve Wainwright of Gower South Wales, UK; from Jan Timmermans of Valkenswaard, The Netherlands; from Peter Desypris of Island of Syros Greece; from Didier Favre of Brétigny-sur-Orge, France; from John C McConnell of Maghaberry, Northern Ireland; from Britta Suhre of Rosenheim, Bavaria, Germany;
---
NEW: Lunar Eclipse Photo Gallery
[Science@NASA: Big Lunar Eclipse] [astronomy alerts]
---
May 2010 Aurora Gallery
[previous Mays: 2008, 2005, 2004, 2003, 2002] [aurora alerts]