| | | |
| --- | --- | --- |
| ANDROID FLYBYS: Our field-tested satellite tracker is now available for Android phones. Features: Global predictions and flyby alarms! Learn more. | | |
FALCON 9 DECAY: SpaceX's Falcon 9 rocket, launched on June 4th from Cape Canaveral as a possible successor to the space shuttle, is about to reenter Earth's atmosphere. According to US Strategic Command, reentry should occur on June 27th at 0146 UT +/- 7 hours. Nominallly, the rentry should occur over the South Pacific Ocean, but the large uncertainty in decay time makes it impossible to say for sure. Possible sighting opportunities may be found here and here.
LUNAR ECLIPSE: This morning, the Moon passed through the shadow of Earth, producing a partial lunar eclipse. Jared Aicher of Boise, Idaho, photographed the eclipse at maximum, when 54% of the Moon's diameter was covered: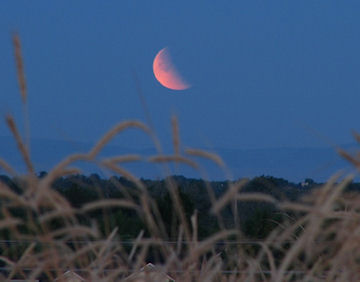 "The lunar eclipse was beautiful as it set over the distant Owyhee Mountains on Saturday morning!" says Aicher. "The light was changing rapidly, and show was magnificent."
Note that in Aicher's picture, the eclipse is not the red half of the Moon. That's normal 'moonset reddening' caused by scattering of moonlight in Earth's atmosphere. The eclipse is the dark half of the Moon. That's Earth's shadow cutting the full moon in two.
NEW: Lunar Eclipse Photo Gallery
[Science@NASA: Big Lunar Eclipse] [astronomy alerts]
SPACE STATION MARATHON: The International Space Station (ISS) is putting on a remarkable show. For the next few days, the behemoth spacecraft will be in constant sunlight as its orbit lines up with Earth's day-night terminator. This means it will shine brightly in the night sky every single time it passes overhead. Some observers can see it 3, 4, even 5 times a night!
"Last night we witnessed five passes of the ISS over the Mont-Megantic Dark Sky Reserve in Quebec," reports Guillaume Poulin. "This picture shows one of the most impressive, with the space station's magnitude reaching -3 for much of its five minute pass."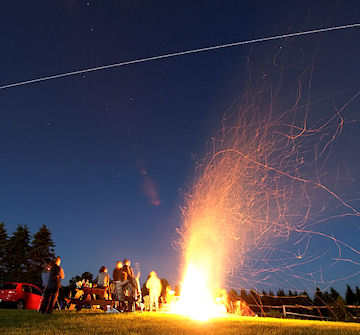 "The campfire was in celebration of Quebec's National Holiday," he explains. "It was nice to have the space station join our party so often!"
Readers, please take advantage of this rare "ISS marathon." Check the Simple Satellite Tracker for viewing times. Better yet, let your iPhone or Android guide you to the space station. There's an app for that!
more images: from Pete Glastonbury of Devizes, Wiltshire, UK; from Guillaume Poulin of Quebec, Canada; from John C McConnell of Maghaberry, Northern Ireland; from Peter Rosén of Stockholm, Sweden; from Baqir of Quetta, Pakistan; from Steve Paluch of Milwaukee, Wisconsin; from Pete Lardizabal of St Johns, Florida; from Joseph Shaw of Bozeman, Montana;
---
May 2010 Aurora Gallery
[previous Mays: 2008, 2005, 2004, 2003, 2002] [aurora alerts]