ARIZONA FIREBALL: Over the weekend, midnight sky watchers in Arizona and New Mexico witnessed a "spectacular fireball" that exploded in "a flash like lightning." The brightness may have exceeded that of a full Moon. The approximate time was 0604 UT, a few minutes past midnight MDT on April 26th. A fireball camera operated by Thomas Ashcraft near Santa Fe, NM, captured the event, which was brilliant despite its low elevation: movie. Readers, if you saw or photographed this fireball, please submit a report.
SUNSET CONJUNCTION: Last night, sky watchers around the world witnessed a beautiful conjunction of the Moon, Mercury and Pleiades. Richard Fleet sends this photo from Pewsey Vale, Wiltshire, England: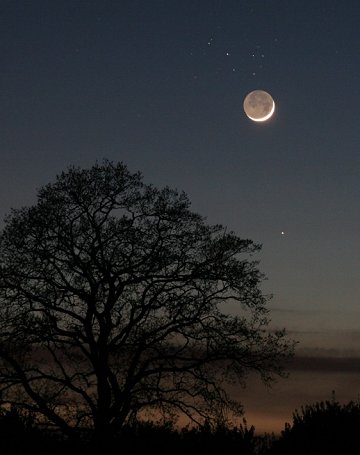 "The photo doesn't do it justice," says Fleet. "The binocular view of Earthshine and the Pleiades was very striking."
The alignment is now breaking up--Moon exit stage left--but there is still something to see. Mercury and the Pleiades are converging for a mini-conjunction of their own on April 30th. Keep an eye on the sunset: sky map.
more photos: from Vladimir Knyaz of Moscow, Russia; from Elizabeth Warner of Alexandria, Virginia; from Jose Suro of Tierra Verde, Florida; from Dave Gulyas of Black River Astronomical Society, Carlisle, Ohio; from Gary A. Becker of Coopersburg, PA; from Jimmy Westlake of Stagecoach, Colorado; from Pablo Lonnie Pacheco Railey of Monterrey, Mexico; from Terry Mann of West Manchester, Ohio; from Willian Carlos de Souza of Sao Paulo, Brazil; from Nigel Merrick of Oakland, Tennessee; from Miguel Claro of Costa da Caparica, Almada - Portugal; from Jonathan Sabin of Ellenton, Florida; from Michael Boschat of Halifax, Nova Scotia; from Tamas Ladanyi of Veszpremfajsz, Hungary; from Uriel Goldvais of Rehovot, Israel; from Pete Lawrence of Selsey, West Sussex, UK; from André of Bath, UK; from Doug Berry of Defiance, Ohio; from Chris Schur of Payson, Arizona;
NORTHERN LIGHTS VS MIDNIGHT SUN: At this time of year, night doesn't fall around the Arctic Circle until almost midnight. The window of darkness for auroras is shrinking as summer approaches. Nevertheless, "we saw some beautiful Northern Lights over the weekend," reports Sylvain Serre, who sends this April 25th picture from the outskirts of Salluit, an Inuit village in Nunavik, Canada: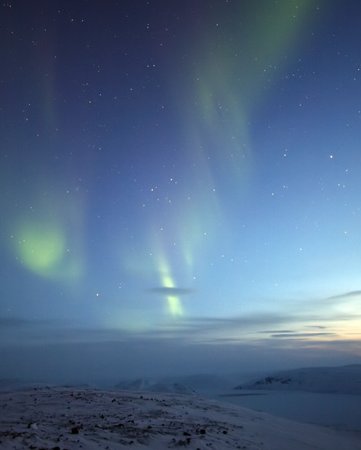 Photo details: Canon EOS 30D, 10mm, f 3.5, 800 ISO, 15 sec
"On Saturday night, some friends and I decided to go out to take a few pictures," says Serre. "The sky was not very dark at 11:00 pm, but the Northern Lights came anyway. They were beautiful with a lot of movement over our heads."
More auroras are due on or about May 7th when a solar wind stream is due to hit Earth. Northern Lights vs. Midnight Sun--which will prevail? Stay tuned!
April 2009 Aurora Gallery
[previous Aprils: 2008, 2007, 2006, 2005, 2004, 2003, 2002]
---