CONJUNCTION IN MOTION: You've seen the snapshots, now watch the movie! Dale Ireland of Silverdale Washington spent two hours photographing Sunday night's conjunction of the Moon, Mercury and Pleiades, and he has created a time-lapse video of the trio setting behind the Olympic mountains. Chose a format, Windows media (0.7 MB) or Quicktime (1 MB), and enjoy the show.
BRIGHT EARTHSHINE: According to NASA-funded research, the best time to see Earthshine is now. Sunlight reflected from Earth onto the Moon is most intense during northern spring. Indeed, "the Earthshine was very bright in last night's 2.6-day-old Moon," says photographer Tamas Ladanyi of Hungary: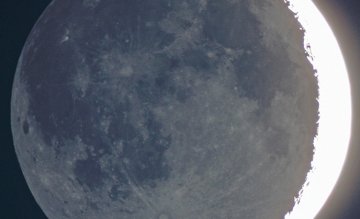 "I took the picture using a Zeiss 80/1200 refractor and a Canon 450D," he says. "Note the nice bluish colors" in the reflected glow of our blue planet.
The seasonal variation was discovered by the astronomers of Project Earthshine. Years of precise measurements showed that Earthshine in April and May is about 10% brighter than average. Earth's reflectivity is dominated by clouds, and it turns out that our planet is cloudiest and thus most reflective at this time of year. Reference: "Earthshine Observations of the Earth's Reflectance," by Goode et al, Geophysical Research Letters, Vol. 28, no. 9 (May 1, 2001), pp 1,671-1,674.
Readers, tonight you can find the crescent Moon hanging high in the western sky after sunset. Go outside and see Earthshine at its best: sky map.
NORTHERN LIGHTS VS MIDNIGHT SUN: At this time of year, night doesn't fall around the Arctic Circle until almost midnight. The window of darkness for auroras is shrinking as summer approaches. Nevertheless, "we saw some beautiful Northern Lights over the weekend," reports Sylvain Serre, who sends this April 25th picture from the outskirts of Salluit, an Inuit village in Nunavik, Canada: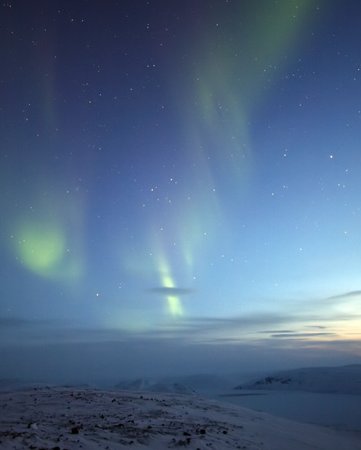 Photo details: Canon EOS 30D, 10mm, f 3.5, 800 ISO, 15 sec
"On Saturday night, some friends and I decided to go out to take a few pictures," says Serre. "The sky was not very dark at 11:00 pm, but the Northern Lights came anyway. They were beautiful with a lot of movement over our heads."
More auroras are due on May 6th or 7th when a solar wind stream is due to hit Earth. Northern Lights vs. Midnight Sun--which will prevail? Stay tuned!
April 2009 Aurora Gallery
[previous Aprils: 2008, 2007, 2006, 2005, 2004, 2003, 2002]
---