SATELLITE DECAY: According to US Strategic Command, Iran's Omid satellite reentered Earth's atmosphere yesterday, April 25th, during an 8-hour window centered on 0342 UT. The most likely reentry location is over the south Atlantic Ocean approximately east of Buenos Aires, Argentina. No sightings have been reported.
NOTE: The Safir-2 rocket that launched Omid is still in Earth orbit. Check the Simple Satellite Tracker for viewing opportunities.
WEEKEND SKY SHOW: When the sun goes down tonight, step outside and look west. You might see something like this: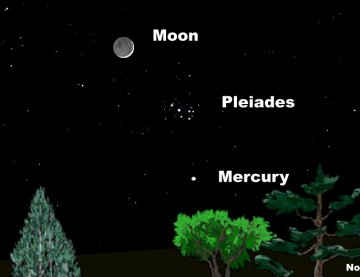 Dale Ireland of Silverdale, Washington, created the graphic to illustrate the April 26th conjunction of the crescent Moon, Pleiades and Mercury.
Start watching early. The Moon pops out of the twilight long before the sky fades to black. A slender crescent Moon surrounded by colbalt blue is one of the loveliest sights in the heavens. Mercury and the Pleiades are a wonderful bonus: full story.
April 26th photos: from Tamas Ladanyi of Veszpremfajsz, Hungary; from Richard Fleet of Pewsey Vale, Wiltshire, England; from Uriel Goldvais of Rehovot, Israel; from Pete Lawrence of Selsey, West Sussex, UK; from Gadi Eidelheit of Givat Shmuel, Israel; from Achim Schaller of Marzell, Germany; from André of Bath, UK; from Erkki Rauhala of Uurainen, Finland; from P-M Hedén of Vallentuna, Sweden; from Luke Broom-Lynne of Attleborough, Norfolk, UK; from Donatas Tamonis of Kaunas, Lithuania; from Marcin Grzybowski of Forslo, Sweden; from George Tarsoudis of Melia of Evros - Greece; from Catalin M. Timosca of Mihai Viteazul, Romania; from Miroslav Znášik of Žilina, Slovakia; from Sorin Hotea of Sighetu-Marmatiei, Romania; from Jesper Gronne of Denmark; from Honor Wheeler of Wilmington, Kent, UK; from Carlos Briggs of Great Dunmow, Essex, England, UK; from Reinhard Nitze of Barsinghausen, North Germany; from Stephan Brügger of Lübeck, Germany
NOT-SO-QUIET SUN: The sun produced an unexpected burst of activity on April 23rd when an enormous prominence rose over the northeastern limb and erupted. SOHO recorded the blast from beginning to end with a series of high-cadence UV snapshots. Click on the image to set the scene in motion:
The complex explosion produced not one but two coronal mass ejections (CMEs): movie. An impact from such a double-CME would almost surely spark magnetic storms around the poles of Earth, but it is not heading in our direction. The chance of auroras remains low.
---
April 2009 Aurora Gallery
[previous Aprils: 2008, 2007, 2006, 2005, 2004, 2003, 2002]
---