| | | |
| --- | --- | --- |
| ASTRONOMY ALERTS: Looking for a unique and affordable gift? Give the heavens for Christmas at Spaceweather PHONE. | | |
BIG INTERSTELLAR DISCOVERY: The solar system is passing through an interstellar cloud that physics says should not exist. In the Dec. 24th issue of Nature, a team of scientists reveal how NASA's Voyager spacecraft have solved the mystery. Get the full story from Science@NASA.
CLOUDS ON MARS: Earth and Mars are converging for a close encounter at the end of January 2010. At closest approach on Jan. 27th, the two planets will be 99 million km (0.66 AU) apart and Mars will shine like a bright orange star high in the midnight sky. Although the best views are more than a month away, it is already possible to see beautiful details through backyard telescopes. Emil Kraaikamp sends this image from Ruinerwold, The Netherlands: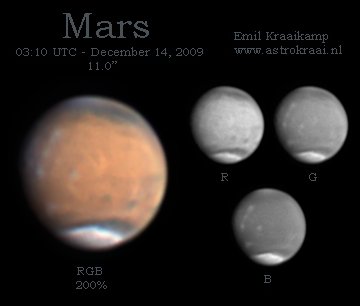 Click to launch a 2.7 hour time-lapse movie
"I took the picture using a 10-inch Meade Starfinder," says Kraaikamp. The planet's most eye-catching feature is the huge polar ice cap, but Kraaikamp points out something else: "Sometimes, pale blue orographic clouds can be seen hovering above ancient volcanoes on Mars. In this image, the clouds are present over Arsia Mons, Pavonis Mons, Ascraeus Mons, and the biggest volcano of all, Olympus Mons." They are particularly conspicuous in this animation of Mars rotating.
The view will only improve in the weeks ahead. Stay tuned!
RINGED PLANET: Saturn isn't the only planet with rings. Earth has one, too, a ring of geostationary satellites. Click on this image and cross your eyes to see it pop out of the screen in 3D: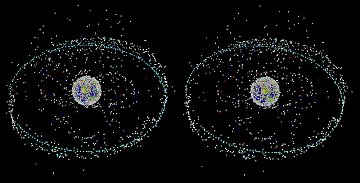 Science teacher Tom Wagner of Waterloo, Iowa, created the image on Christmas Eve using Makoto Kamada's 3D satellite viewing program. "Earth looks a bit like a Christmas ornament hanging suspended in the middle of the satellite swarm."
Geostationary satellites orbit 36,000 kilometers above Earth's surface. They go around our planet once every 24 hours, which means they hang over a fixed point on the ground--perfect for monitoring weather, beaming down TV signals, and relaying telecommunications. The ring is sometimes called the "Clarke Belt" after Arthur C Clarke who popularized the idea of geostationary satellites in the mid-1940s, more than a decade before the Space Age began.
In addition to the Clarke Belt, Wagner's image also shows hundreds of low-Earth orbit satellites hugging the planet only a few hundred kilometers high, and many satellites at intermediate altitude. Space is a busy place. You can see how busy by viewing more of Wagner's 3D-sat images here.
---
UPDATED: December Northern Lights Gallery
[previous Decembers: 2008, 2007, 2006, 2005, 2001, 2000]
---