| | | |
| --- | --- | --- |
| ASTRONOMY ALERTS: Looking for a unique and affordable gift? Give the heavens for Christmas at Spaceweather PHONE. | | |
BIG INTERSTELLAR DISCOVERY: The solar system is passing through an interstellar cloud that physics says should not exist. In the Dec. 24th issue of Nature, a team of scientists reveal how NASA's Voyager spacecraft have solved the mystery. Get the full story from Science@NASA.
AURORAS AND A RAINBOW AT NIGHT: At midnight on Dec. 23rd, Karl Johnston found himself climbing down a cliff on the banks of the Slave River, near Fort Smith in the Northwest Territories of Canada. He paused for breath, looked out over the rapids, and this is what he saw: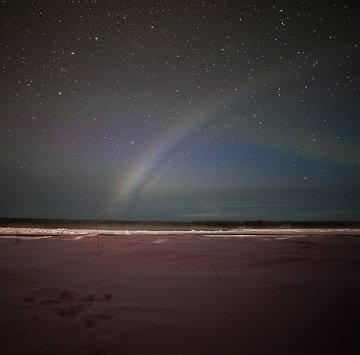 "A rainbow was cutting through the aurora borealis," he says.
A rainbow at night? "Moonlight was shining into the mist above the rapids--and that's what made the rainbow," he explains. Technically, it's called a fogbow. Fogbows are close cousins of rainbows and they are formed in essentially the same way: light bounces in and out of water droplets to produce a luminous arc.
Johnston's lunar fogbow formed above the rapids just as a solar wind stream was buffeting Earth's magnetic field, giving rise to auroras and a rare conjunction of Arctic night lights. It's enough to make you scale a cliff at midnight. More images: #1, #2, #3.
UPDATED: December Northern Lights Gallery
[previous Decembers: 2008, 2007, 2006, 2005, 2001, 2000]
RINGED PLANET: Saturn isn't the only planet with rings. Earth has one, too, a ring of geostationary satellites. Click on this image and cross your eyes to see it pop out of the screen in 3D: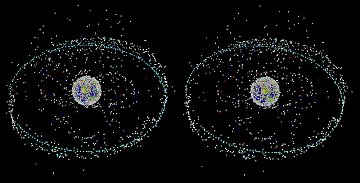 Science teacher Tom Wagner of Waterloo, Iowa, created the image on Christmas Eve using Makoto Kamada's 3D satellite viewing program. "Earth looks a bit like a Christmas ornament hanging suspended in the middle of the satellite swarm."
Geostationary satellites orbit 36,000 kilometers above Earth's surface. They go around our planet once every 24 hours, which means they hang over a fixed point on the ground--perfect for monitoring weather, beaming down TV signals, and relaying telecommunications. The ring is sometimes called the "Clarke Belt" after Arthur C Clarke who popularized the idea of geostationary satellites in the mid-1940s, more than a decade before the Space Age began.
In addition to the Clarke Belt, Wagner's image also shows hundreds of low-Earth orbit satellites hugging the planet only a few hundred kilometers high, and many satellites at intermediate altitude. Space is a busy place. You can see how busy by viewing more of Wagner's 3D-sat images here.
---