| | | |
| --- | --- | --- |
| ASTRONOMY ALERTS: Looking for a unique and affordable gift? Give the heavens for Christmas at Spaceweather PHONE. | | |
BIG INTERSTELLAR DISCOVERY: The solar system is passing through an interstellar cloud that physics says should not exist. In the Dec. 24th issue of Nature, a team of scientists reveal how NASA's Voyager spacecraft have solved the mystery. Get the full story from Science@NASA.
SOLAR ACTIVITY INTENSIFIES: 2009 is ending with a flurry of sunspots. The latest is sunspot 1039, which formed yesterday and is now crackling with low-level solar flares. Cai-Uso Wohler sends this picture of a B-class eruption from his backyard observatory in Bispingen, Germany:
So far, 65% of the days in December have brought sunspots--a sharp increase in percentages compared to earlier months of 2009 when sunspots were surpassingly rare. All six of December's sunspot groups have been members of new Solar Cycle 24. These numbers could herald the sun's awakening from the deepest solar minimum in nearly a century and a livelier sun in 2010. Stay tuned.
more images: from Peter Paice of Belfast, Northern Ireland; from Marco Vidovic of Stojnci, Slovenia; from Stephen Ames of Hodgenville, Kentucky
JACK FROST: Last night, Jack Frost paid a visit to Pennsylvania. "This morning when I went out to get my newspaper, I found my cars covered in a spectacular assortment of frost patterns," says Jeff Orner of Boiling Springs. "I had to hurry before the sun rose and rendered them gone forever."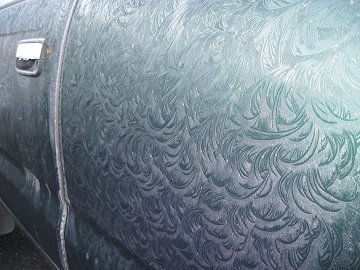 The evening before there had been "a light rain and sub-freezing temperatures," says Orner. This set the stage for a great display of morning frost.
It works like this: When air is saturated with water, water molecules can crystalize on freezing surfaces, transforming directly from an amorphous vapor to a crystalline solid. This is called depositional frost or hoarfrost. Tiny manufacturing imperfections, scratches, and/or dust on car doors, windshields and hoods serve as nucleation points for the crystalization process. From such humble beginnings, spectacular frost patterns form.
Is it cold and wet where you live? Be alert for Jack Frost.
more images: from Charlie Flindt of Hinton Ampner, Hampshire, England.
---
December Northern Lights Gallery
[previous Decembers: 2008, 2007, 2006, 2005, 2001, 2000]
---