METEOR SHOWER UPDATE: The Orionid meteor shower is still active. According to the International Meteor Organization, observers are now counting as many as 35 Orionids per hour. If it's dark where you live, go outside and look up. You might see a meteor every few minutes or so. Rates will be highest during the hours just before local sunrise.
The shower is caused by dusty debris from Halley's Comet, which litters the October portion of Earth's orbit. On Oct. 20th, a fragment of Halley cut across the skies of New Mexico where amateur radio astronomer Thomas Ashcraft operates an all-sky camera and forward scatter meteor radar. Click on the image to play a movie with soundtrack: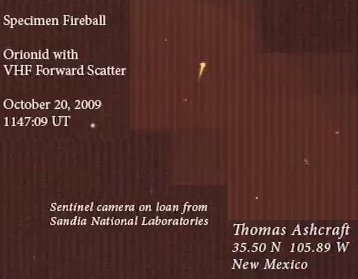 The eerie sound you just heard was a radio echo--a distant TV signal reflected from the meteor's ionized trail. Ashcraft records the reflections at 61.250 MHz and 55.250 MHz using a VHF antenna co-located with his all-sky camera. He says he'll be updating his radio fireball gallery as the shower intensifies.
Meanwhile at the Marshall Space Flight Center (MSFC) in Alabama, NASA astronomers have been monitoring Orionid activity using a two-station observatory with cameras separated by more than 100 miles. When a meteor is captured by both cameras, triangulation yields the meteor's height, direction and speed. "We find that most Orionids are hitting the atmosphere at about 140,000 mph," says lead researcher Bill Cooke.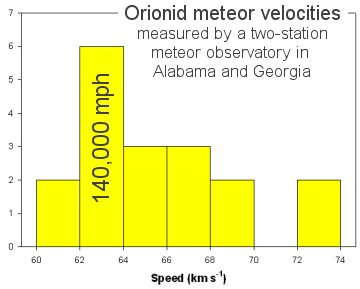 This high speed accounts for the rapidity with which Orionids flit across the sky. "They are very fast meteors," he says.
For the past three years, Orionid rates have been unusually high, with reports of 60 or more meteors per hour. Researchers believe this is a result of some very old and rich debris from Comet Halley drifting across Earth's orbit. Computer models suggest that this debris is still nearby, so the trend of "good Orionids" should continue in 2009.
UPDATED: 2009 Orionid Photo Gallery
[full story] [sky map] [previous years: 2006, 2008]
---
Sept. 2009 Aurora Gallery
[previous Septembers: 2008, 2007, 2006, 2005, 2004, 2002, 2001]
---