GEOMAGNETIC ACTIVITY: High-latitude sky watchers should be alert for Northern Lights. A sharp gust of solar wind hit Earth on Oct. 21st, and the polar magnetic field is still "ringing" with geomagnetic activity. Green skies have been reported across Scanidavia, and the display could spread to Canada and Alaska tonight.
aurora images: from Fredrik Broms of Kvaløya, Norway; from Eva Neumann of Norway; from Bjorn Jorgensen of Tromso, Norway; from John Gray of Eoropie, Isle of Lewis, Scotland; from Steve Milner of Fort St. John, BC, Canada; from Whitham D. Reeve of Anchorage, Alaska;
METEOR SHOWER UPDATE: The Orionid meteor shower is subsiding. According to the International Meteor Organization, the shower exhibited a broad peak spanning Oct. 20th through 22nd with maximum rates of 50 meteors per hour: data. A declining number of Orionids may still be seen in the nights ahead as Earth exits the debris stream of the shower's parent Comet Halley. The best time to look is during the dark hours before dawn.
Every night this week, Orionids have been flying across the skies above the Marshall Space Flight Center in Alabama. To the naked eye, the meteors appeared to spray in all directions with no underlying pattern, but when NASA astronomers traced the meteors backward, they found a common origin: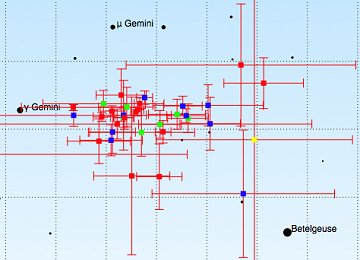 "On this sky map, we plotted the starting points of more than 30 meteors," explains Bill Cooke of NASA's Meteoroid Environment Center. "Almost all of them radiated from a small region of sky in the constellation Orion--hence the name 'Orionids.'"
2009 Orionid Photo Gallery
[full story] [sky map] [previous years: 2006, 2008]
SOLAR TRANSIT: There's one nice thing about a relentlessly blank sun. The spaceships really stand out. Yesterday in South Portland, Maine, John Stetson and student D. Booth photographed the International Space Station (ISS) transiting the solar disk: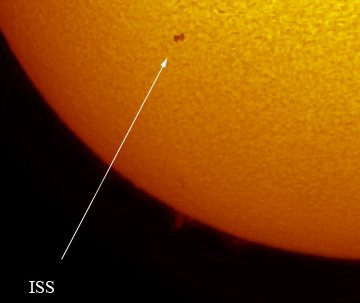 "The transit's narrow shadow path (only a few thousand yards wide) cut across a field near the Portland Airport, where we set up our solar-filtered telescope," says Stetson. "D. Booth plans to make a video of the eleven webcam images that we captured. I'll give him class time to work on it this afternoon." Stay tuned!
---
Sept. 2009 Aurora Gallery
[previous Septembers: 2008, 2007, 2006, 2005, 2004, 2002, 2001]
---