AURORA WATCH: Polar sky watchers should be alert for Northern Lights tonight. That's when a solar coronal mass ejection (CME) hurled toward Earth by an Oct. 17th explosion on the sun is expected to arrive. The incoming CME is not a big one, and its impact might have little or no visible effect. NOAA forecasters estimate a 5% chance of geomagnetic activity.
ORIONID METEOR SHOWER: The Orionid meteor shower is underway. Earth is passing through a stream of dusty debris from Halley's Comet, and this is causing meteors to shoot out of the constellation Orion. Earlier today, amateur astronomer Jefferson Teng photographed an Orionid fireball over Shanghai, China: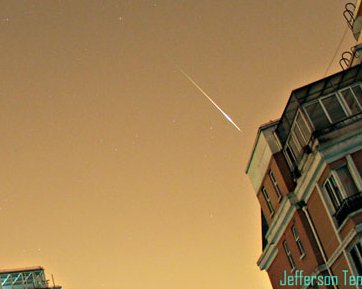 Photo details: Canon 350D, ISO400, 6 second exposure
"I woke up early in the morning to observe the shower through my bedroom window," says Teng. "This one was quite bright considering the light pollution in Shanghai."
Forecasters expect the shower to peak on Wednesday, Oct. 21st, with dozens of meteors per hour. The best time to look is during the dark hours before sunrise. For best results, get away from city lights, but as Teng discovered, country darkness is not absolutely necessary.
UPDATED: 2009 Orionid Photo Gallery
[full story] [sky map] [previous years: 2006, 2008]
ROCKET FUEL DUMP: A Centaur rocket caused a minor sensation on Sunday night, Oct. 18th, when it flew over Europe and dumped a load of excess propellant. "We saw it at 9:15 pm local time (1915 UT)," report Federico and Chiara Bellini of Bodio Lomnago, Italy. "It looked like a comet with a fan-shaped tail." They took this 30-second exposure using a Nikon D70s: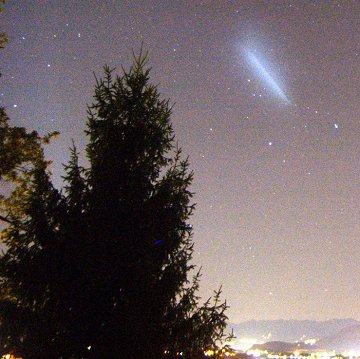 "About 20 seconds later, a second object appeared." That was a US military weather satellite (DMSP F-18), which the Centaur booster had helped launch earlier in the evening from Vandenberg, Air Force Base in California. "And then," the Bellinis continue, "a big circular halo followed the two across the sky." The halo, shown here in a movie recorded by Jonas Förste of Jakobstad, Finland, was probably an expanding puff of gas emitted during an earlier firing of the Centaur.
This remarkable show surprised observers in almost every country of Europe. Browse the links below for more sightings.
more images:from Lloyd Betsworth of Podpec Nr Ljubljana, Slovenia; from Paul Beskeen of Bourn, Cambridge, UK; from Oliver Schneider of Leopoldshöhe, Germany; from Marko Posavec of Koprivnica, Croatia; from Davide Trezzi of Varenna, Italy; from Vince Tuboly of Hegyhátsál, Hungary; from Quentin D. of le Havre, Normandy, France; from Feys Filip of the Sasteria public observatory, Crete;
---
Sept. 2009 Aurora Gallery
[previous Septembers: 2008, 2007, 2006, 2005, 2004, 2002, 2001]
---