| | | |
| --- | --- | --- |
| SATELLITE FLYBYS APP: Turn your iPhone or iPod into a field-tested satellite tracker! Spaceweather.com presents the Satellite Flybys app. | | |
AURORA WATCH: A solar wind stream is approaching Earth and it could trigger polar geomagnetic storms when it arrives on Jan. 19th or 20th. High-latitude sky watchers should be alert for auroras.
SOLAR FLARES: Today, Jan. 19th at 1340 UT, Earth-orbiting satellites detected the strongest solar flare in almost two years. The M2-class eruption came from old sunspot 1039, currently located behind the sun's eastern limb. NASA's STEREO-B spacecraft recorded this extreme ultraviolet movie of the blast: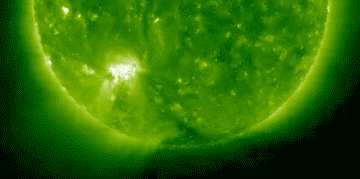 Click here to view the full-sized animation with labels
Considering the fact that the sunspot is not even visible from Earth, the flare was probably much stronger than its M2 classification would suggest. This active region has produced at least three significant eruptions since Jan. 17th (including this notable flare) and it is showing no signs of cooling off.
At the moment only STEREO-B, stationed over the east limb, can monitor the active region directly. Soon, this will change. The sun's rotation is turning sunspot 1039 toward Earth and it should emerge for direct viewing within the next 48 hours. Readers with solar telescopes are encouraged to monitor the east limb for developments.
ARCTIC SUN DOG: Weeks ago, darkness fell around the Arctic circle, and people there are beginning to yearn for some sunshine. Claus Vogel of Baffin Island, Canada, couldn't wait any longer, so on Jan. 17th he went out hunting for the sun accompanied by his dog Hero. Scroll past this picture of Hero for his report: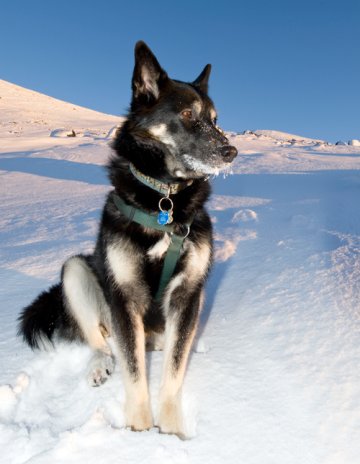 Above: Hero basks in sunshine for the first time this year.
"At this time of year, the Arctic sun is so low on the horizon, the mountains block its view. So Hero and I climbed Mt Duval to feel its warm rays on our face for the first time in 2010. We trekked through knee-deep snow, scaled a mountainside, and endured temperatures of -35 oC. It was all worth it! The things we do to see the sun..."
Back down in town (Pangnirtung), notes Vogel, people won't feel direct sunlight until mid-February. He and Hero are already planning their next sun-hunt.
January Northern Lights Gallery
[previous Januarys: 2009, 2008, 2007, 2005, 2004, 2001]
---
UPDATED: Solar Eclipse Photo Gallery
[World Map of Eclipse Sightings]