| | | |
| --- | --- | --- |
| SATELLITE FLYBYS APP: Turn your iPhone or iPod into a field-tested satellite tracker! Spaceweather.com presents the Satellite Flybys app. | | |
MYSTERY OF THE GIANT RIBBON: Last year, when NASA's IBEX spacecraft discovered a giant ribbon at the edge of the solar system, researchers were mystified. They called it a "shocking result" and puzzled over its origin. Now the mystery may have been solved. Get the full story from Science@NASA.
SOLAR FLARE: Old sunspot 1039 still has some life left in it. Yesterday, Jan. 17th, it unleashed a strong solar flare and triggered a solar tsunami. Click on the image to set the scene in motion.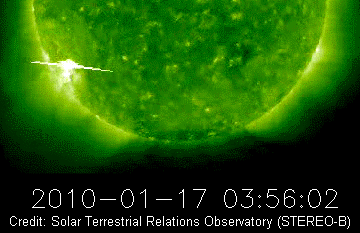 The eruption, which took place on the far side of the sun, was invisible from EarthNevertheless, NASA's STEREO-B spacecraft had a great view. STEREO-B is stationed over the sun's eastern limb where it can see things that we cannot. Solar rotation is slowly turning sunspot 1039 back toward our planet and STEREO-B will keep an eye on it as it approaches. Stay tuned for updates.
ARCTIC SUN DOG: Weeks ago, darkness fell around the Arctic circle, and people there are beginning to yearn for some sunshine. Claus Vogel of Baffin Island, Canada, couldn't wait any longer, so on Jan. 17th he went out hunting for the sun accompanied by his dog Hero. Scroll past this picture of Hero for his report: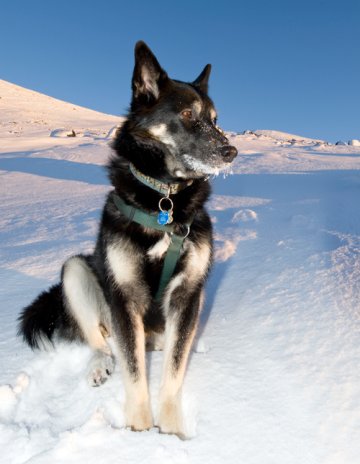 Above: Hero basks in sunshine for the first time this year.
"At this time of year, the Arctic sun is so low on the horizon, the mountains block its view. So Hero and I climbed Mt Duval to feel its warm rays on our face for the first time in 2010. We trekked through knee-deep snow, scaled a mountainside, and endured temperatures of -35 oC. It was all worth it! The things we do to see the sun..."
Back down in town (Pangnirtung), notes Vogel, people won't feel direct sunlight until mid-February. He and Hero are already planning their next sun-hunt.
UPDATED: January Northern Lights Gallery
[previous Januarys: 2009, 2008, 2007, 2005, 2004, 2001]
---
Solar Eclipse Photo Gallery
[World Map of Eclipse Sightings]