| | | |
| --- | --- | --- |
| SATELLITE FLYBYS APP: Turn your iPhone or iPod into a field-tested satellite tracker! Spaceweather.com presents the Satellite Flybys app. | | |
AURORA ALERT: High-latitude sky watchers should be alert for auroras. Earth is entering a dense solar wind stream and this could trigger polar geomagnetic storms.
CRACKLING SUNSPOT: Old sunspot 1039 is crackling with solar flares. Over the past 48 hours, it has produced five M-class eruptions. Click on the image to play a movie of the latest, an M2-blast recorded by STEREO-B at 1756 GMT on Jan. 20th: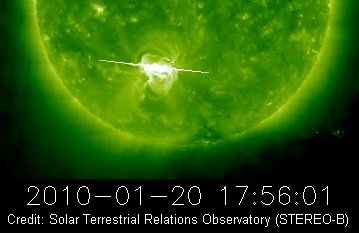 The ongoing sequence of flares signals a sharp upturn in solar activity. Before this week, the last time the sun produced even a single M-class solar flare was in March 2008--almost two years ago. M-class solar flares have a moderate effect on Earth. Mainly, they boost the usual ionization of Earth's upper atmosphere, causing short-lived radio blackouts at some frequencies and radio enhancements at others. For an example, scroll down and read the section "Ionospheric Disturbance."
Today, the active region responsible for these fireworks is emerging over the sun's eastern limb where it can be seen from Earth: finder chart. Readers with solar telescopes are encouraged to monitor developments.
IONOSPHERIC DISTURBANCE: An M2-class solar flare on Jan. 19th bathed Earth's upper atmosphere in X-rays and caused a wave of ionization to sweep over Europe. This improved the propagation of low-frequency radio signals, which use the ionosphere as a reflector to skip over the horizon. A SID monitor operated by Rudolf Slosiar in Bojnice, Slovakia, recorded a surge in signal strength: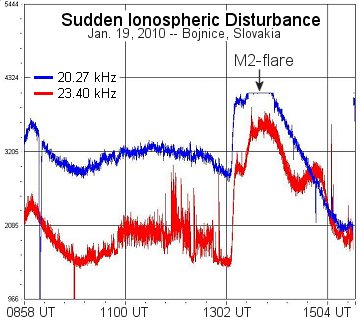 "SID" stands for Sudden Ionospheric Disturbance, and a "SID monitor" is a radio receiver that monitors ~20 kHz signals from distant transmitters. "My system clearly detected the effects of the solar flare," says Slosiar. "The decay of the signal shows that it took about 72 minutes for the ionosphere to recombine [and relax to its pre-flare state]."
With solar activity on the rise, sudden ionospheric disturbances will become more common. Interested? Stanford University tells you how to build your own SID monitor.
more SIDS: from Roberto Battaiola of Pantigliate, Milano, Italy;
---
January Northern Lights Gallery
[previous Januarys: 2009, 2008, 2007, 2005, 2004, 2001]
---
UPDATED: Solar Eclipse Photo Gallery
[World Map of Eclipse Sightings]