| | | |
| --- | --- | --- |
| BEHOLD THE SUN: Would you like to see fiery prominences and new-cycle sunspots with your own eyes? On sale now: Personal Solar Telescopes. | | |
SPACE STATION SIGHTINGS: Readers, check the Satellite Tracker. If the International Space Station (ISS) is flying over your backyard tonight, you might be able to see something extra: A Soyuz spacecraft carrying a space tourist and two new members of the ISS crew. The tiny craft is closing in on the space station for docking on Tuesday: more.
GEOMAGNETIC STORM: This weekend when magnetometer needles began to swing at the Polar Light Center in Lofoten, Norway, researcher Rob Stammes knew something was up. "A geomagnetic storm was underway."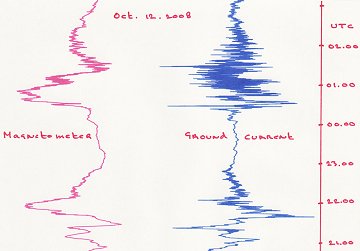 The storm began on Oct. 11th when a solar wind stream hit Earth's magnetic field. Stammes' magnetometer recorded the impact and subsequent reverberations, which lasted for hours. In the chart recording, above, red shows how the local magnetic field was swinging back and forth while blue denotes electrical currents surging through the ground in response. Outside, Northern Lights were pulsating in sych with the chart recorder's colored pens. "The ground current fluctuated with a 5-to-10 second period; the visible auroras were switching on and off in the same way," he says. "It was a really special sight." Browse the gallery for more:
Oct. 2008 Aurora Gallery
[Previous Octobers: 2007, 2006, 2004, 2003, 2002, 2001, 2000]
A PIECE OF HISTORY: Veteran satellite observer Ralf Vandebergh is on a personal quest--to photograph the oldest spacecraft in Earth orbit. "I started in the spring of 2008," he says. "My interest quickly turned to the Tiros satellites (Television Infrared Observation System) from the early 1960s; they are legendary as the first successful weather satellites in history. I spent a lot of time during the summer trying to catch one, but failed for a variety of reasons: clouds, unfavorable passes, the intrinsic faintness of the satellite itself. However, I never gave up trying and finally succeeded on Sept. 29th when I caught a rare good pass of Tiros 2."
He photographed the vintage satellite using a 10-inch telescope and placed the photo beside a similar snapshot the International Space Station. "We've come a long way in 48 years!"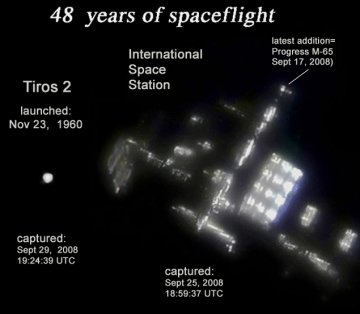 "Tiros 2 was about as bright as a 3rd magnitude star," says Vandebergh. "It was amazing to see something launched in the same year as the famous Echo 1 satellite (1960), with the difference that Echo 1 burned up in the atmosphere in 1968 while Tiros 2 is still in Earth orbit." Tiros 2 stopped working in 1961, but the satellite itself is intact. "If we could travel to Tiros 2, we would find there two old video cameras (one low resolution/one high resolution), a magnetic tape recorder, and some infrared sensors." Images from Tiros 2 looked like this.
Readers, the Satellite Tracker is now monitoring Tiros 2. Check it out. You may be able to see a piece of history flying over your own backyard tonight.
---
UPDATED: Oct. 2008 Aurora Gallery
[Previous Octobers: 2007, 2006, 2004, 2003, 2002, 2001, 2000]