| | | |
| --- | --- | --- |
| BEHOLD THE SUN: Would you like to see fiery prominences and new-cycle sunspots with your own eyes? On sale now: Personal Solar Telescopes. | | |
HUNTER'S MOON: According to folklore, tonight's full moon is the "Hunter's Moon," because it illuminates the evening landscape for hunters of autumn wildlife. Go outside and take a look--but leave the guns inside. The best shot to take is with a camera. Frosty autumn air combines with Hunter's moonlight to decorate the night sky with ice halos, lunar coronas and moondogs. Let the hunt begin!
moon photos: from P-M Hedén of Vallentuna, Sweden; from C.J. Wood of Ridgely, Maryland; from Stanislaw Rokita of Torun, Poland; from Mark D. Marquette of Boones Creek, Tennessee; from Phillip Chee of Peterborough, Ontario; from Catalin M. Timosca of Turda, Romania; from Jay Johnson of Bloomsbury, NJ; from Mila Zinkova of San Francisco, California;
MONSTER STORMS ON SATURN: New images from NASA's Cassini spacecraft reveal that both of Saturn's poles are ringed by "monstrous cyclones" hundreds of times stronger than the biggest hurricanes on Earth. In this side-looking view, shadows highlight the topography of Saturn's south polar vortex: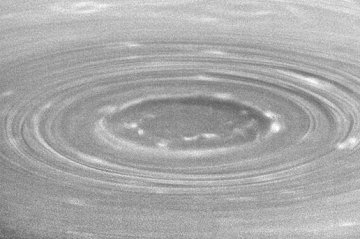 On the other end of the planet, a north polar storm is circumscribed by a strange cloudy hexagon that remains fixed in place while 300 mph winds swirl inside it. At the moment, Saturn's north pole is shrouded in darkness because it is winter there, but Cassini's infra-red cameras were able to photograph the vortex anyway by sensing the heat it emits into the night: movie.
Researchers think these giant weather systems might powered by deep-seated thunderstorms, although no one can say for sure; the base of the vortices are too deep and cloudy to see. Get the full story from NASA.
GEOMAGNETIC STORM: This past weekend when magnetometer needles began to swing at the Polar Light Center in Lofoten, Norway, researcher Rob Stammes knew something was up. "A geomagnetic storm was underway," he says. (continued below)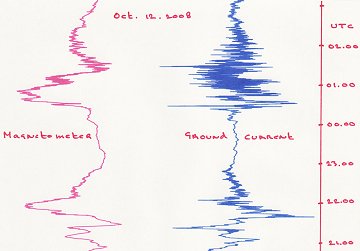 The storm began on Oct. 11th when a solar wind stream hit Earth's magnetic field. Stammes' magnetometer recorded the impact and subsequent reverberations, which lasted for hours. In the chart recording, above, red shows how the local magnetic field was swinging back and forth while blue denotes electrical currents surging through the ground in response. Outside, Northern Lights were pulsating in sych with the chart recorder's colored pens. "Ground currents fluctuated with a 5-to-10 second period; the visible auroras were switching on and off in the same way," he says. "It was a really special sight." Browse the gallery for more:
Oct. 2008 Aurora Gallery
[Previous Octobers: 2007, 2006, 2004, 2003, 2002, 2001, 2000]