| | | |
| --- | --- | --- |
| BEHOLD THE SUN: Would you like to see fiery prominences and new-cycle sunspots with your own eyes? On sale now: Personal Solar Telescopes. | | |
COMET ENCOUNTER: A near-Earth object due to pass our planet on Oct. 22 is not an asteroid, but a comet: Comet Barnard-Boattini was discovered in 1892, lost for more than a century, and found again this month as it approached Earth. How do you lose a comet? It's easy when the comet is as dim this one. Bernard-Boattini will barely reach 16th magnitude even though it is only 18 million miles away; it must be old and spent--or very small. Observers, consider it a challenge: ephemeris.
NEW-CYCLE SUNSPOT: A "new-cycle" sunspot belonging to Solar Cycle 24 has emerged near the sun's northeastern limb. Sunspot 1005 has two fast-growing dark cores wider than Earth and a simple bipolar magnetic field that poses no threat for solar flares. Alan Friedman sends this picture from his backyard observatory in Buffalo, New York:
This is the third time in as many weeks that a new-cycle sunspot has interrupted the year's remarkable run of blank suns. The accelerating pace of new-cycle sunspot production is an encouraging sign that, while solar activity remains very low, the sunspot cycle is unfolding more or less normally. We are not stuck in a permanent solar minimum. Readers with solar telescopes should train them on the sun this weekend to observe sunspot genesis in action.
more images: from J. Fairfull and J. Stetson of South Portland, Maine; from Greg Piepol of Rockville, Md; from Pete Lawrence of Selsey, West Sussex; from Tibor Horvath of Hegyhatsal, Hungary; from Mike Borman of Evansville, Indiana; from Peter Paice of Belfast, Northern Ireland; from Sylvain Weiller of Saint Rémy lès Chevreuse, France; from Jason Higley of Longwood, Florida;
MAGNETIC STORM: A solar wind stream hit Earth on Oct. 11th, sparking the strongest geomagnetic storm of 2008. The disturbance registered 7 on the 0-to-9 K-index scale of geomagnetic activity. Bright auroras spread across Finland, where Sauli Koski took this picture: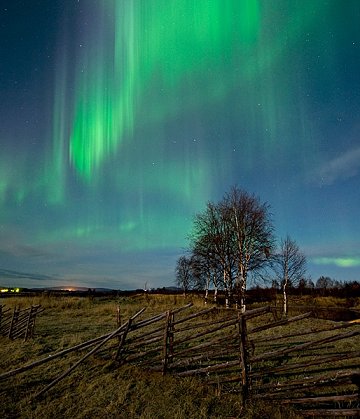 "Finally some good auroras and no clouds!" he says. Bright moonlight added beauty to the scene by illuminating the landscape. Koski made a series of exposures using a Nikon D3 digital camera, opening the shutter for 6 seconds at 800 ASA.
High-latitude sky watchers should remain alert for auroras as the solar wind continues to blow.
UPDATED: Oct. 2008 Aurora Gallery
[Previous Octobers: 2007, 2006, 2004, 2003, 2002, 2001, 2000]