| | | |
| --- | --- | --- |
| Never miss another geomagnetic storm. Sign up for Space Weather Alerts and you'll receive a text message when auroras appear in your area. Aurora tour guides and professional astronomers use this service. Now you can, too! | | |
COMET SWAN HEADS NORTH: Comet SWAN (C/2020 F8) has crossed the celestial equator, and it is now visible from the northern hemisphere. The comet has faded a little since its naked-eye outburst last week, but it is still an easy binocular object at magnitude +6. To see it, wake up early and look east just before sunrise. Sky maps: May 13, 14, 15, 16.
THE GREAT GEOMAGNETIC STORM OF MAY 1921: 99 years ago this week, people around the world woke up to some unusual headlines.
"Telegraph Service Prostrated, Comet Not to Blame" — declared the Los Angeles Times on May 15, 1921. "Electrical Disturbance is 'Worst Ever Known'" — reported the Chicago Daily Tribune. "Sunspot credited with Rail Tie-up" — deadpanned the New York Times.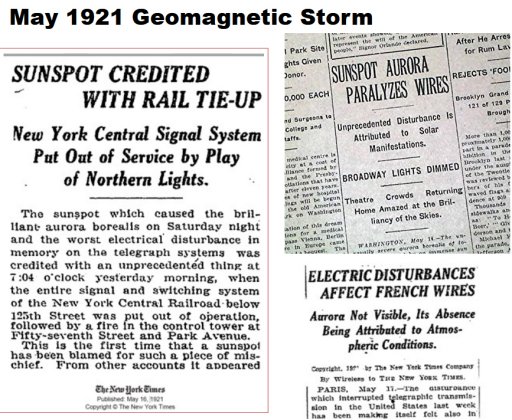 They didn't know it at the time, but the newspapers were covering the biggest solar storm of the 20th Century. Nothing quite like it has happened since.
It began on May 12, 1921 when giant sunspot AR1842, crossing the sun during the declining phase of Solar Cycle 15, began to flare. One explosion after another hurled coronal mass ejections (CMEs) directly toward Earth. For the next 3 days, CMEs rocked Earth's magnetic field. Scientists around the world were surprised when their magnetometers suddenly went offscale, pens in strip chart recorders pegged uselessly to the top of the paper.
Then the fires began. Around 02:00 GMT on May 15th, a telegraph exchange in Sweden burst into flames. About an hour later, the same thing happened across the Atlantic in the village of Brewster, New York. Flames engulfed the switch-board at the Brewster station of the Central New England Railroad and quickly spread to destroy the whole building. That fire, along with another one about the same time in a railroad control tower near New York City's Grand Central Station, is why the event is sometimes referred to as the "New York Railroad Superstorm."
What caused the fires? Electrical currents induced by geomagnetic activity surged through telephone and telegraph lines, heating them to the point of combustion. Strong currents disrupted telegraph systems in Australia, Brazil, Denmark, France, Japan, New Zealand, Norway, Sweden, the UK and USA. The Ottawa Journal reported that many long-distance telephone lines in New Brunswick were burned out by the storm. On some telegraph lines in the USA voltages spiked as high as 1000 V.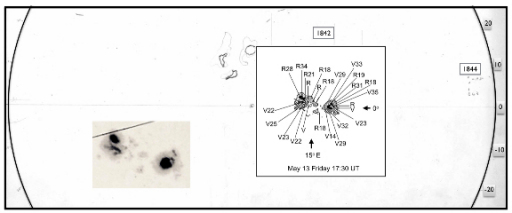 Above: Sunspot AR1842 on May 13, 1921. [more]
During the storm's peak on May 15th, southern cities like Los Angeles and Atlanta felt like Fairbanks, with Northern Lights dancing overhead while telegraph lines crackled with geomagnetic currents. Auroras were seen in the USA as far south as Texas while, in the Pacific, red auroras were sighted from Samoa and Tonga and ships at sea crossing the equator.
What would happen if such a storm occurred today?
Researchers have long grappled with that question–most recently in a pair of in-depth papers published in the journal Space Weather: "The Great Storm of May 1921: An Exemplar of a Dangerous Space Weather Event" by Mike Hapgood (Rutherford Appleton Laboratory, UK) and "Intensity and Impact of the New York Railroad Superstorm of May 1921" by Jeffrey Love (US Geological Survey) and colleagues.
The summary, above, is largely a result of Hapgood's work. He painstakingly searched historical records including scientific journals, newspaper clippings, and other reports to create a moment-by-moment timeline of the storm. Such timelines are invaluable to emergency planners, who can use them to prepare for future storms.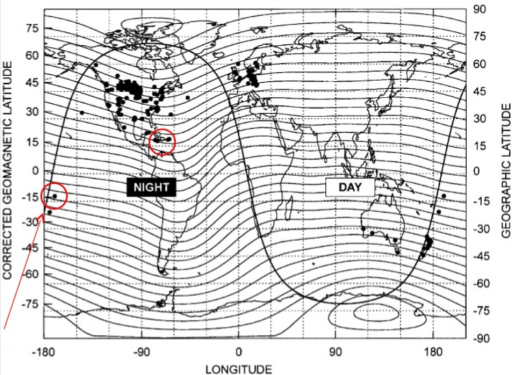 Above: Aurora sightings in May 1921. The leftmost red circle marks Apia, Samoa.
Jeffrey Love and colleagues also looked into the past and–jackpot!–they found some old magnetic chart recordings that did not go offscale when the May 1921 CMEs hit. Using the data, they calculated "Dst" (disturbance storm time index), a measure of geomagnetic activity favored by many space weather researchers.
"The storm attained an estimated maximum −Dst on 15 May of 907 ± 132 nT, an intensity comparable to that of the Carrington Event of 1859," they wrote in their paper.
This dry-sounding result upends conventional wisdom. Students of space weather have long been taught that the Carrington Event (-Dst = 900 nT) was the strongest solar storm in recorded history. Now we know that the May 1921 storm was about equally intense.
If the May 1921 storm hit today, "I'd expect it to lead to most, if not all, of the impacts outlined in the 2013 Royal Academy of Engineering report led by Paul Cannon," says Hapgood. "This could include regional power outages, profound changes to satellite orbits, and loss of radio-based technologies such as GPS. The disruption of GPS could significantly impact logistics and emergency services."
It's something to think about on the 99th anniversary of a 100-year storm….
An expanded and sharable version of this story is available here.
Realtime Space Weather Photo Gallery
Free: Spaceweather.com Newsletter
THE INFINITY PENDANT: Are you looking for a far-out gift? Nothing says "I Love You" like an Infinity Pendant from the edge of space. On Jan. 8, 2020, the students of Earth to Sky Calculus launched a cosmic ray balloon. This authentic Swarovski crystal pendant hitched a ride, traveling 113,209 feet above the Sierra Nevada mountains of central California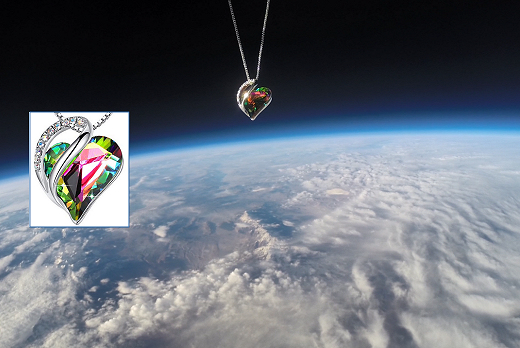 You can have it for $179.95. The students are selling these pendants to support their cosmic ray ballooning program. The glittering heart-shaped crystal is wrapped in a silver-embossed infinity clasp, symbolizing unending love. Each one comes with a romantic card showing the pendant in flight and telling the story of its journey to the edge of space and back again. 
Far Out Gifts: Earth to Sky Store
All sales support hands-on STEM education

---
Realtime Aurora Photo Gallery
Free: Spaceweather.com Newsletter

Every night, a network of
NASA all-sky cameras
scans the skies above the United States for meteoritic fireballs. Automated software maintained by NASA's Meteoroid Environment Office calculates their orbits, velocity, penetration depth in Earth's atmosphere and many other characteristics. Daily results are presented here on Spaceweather.com.
On May 12, 2020, the network reported 17 fireballs.
(13 sporadics, 2 eta Aquarids, 2 eta Lyrids)
In this diagram of the inner solar system, all of the fireball orbits intersect at a single point--Earth. The orbits are color-coded by velocity, from slow (red) to fast (blue). [Larger image] [movies]
Potentially Hazardous Asteroids (
PHAs
) are space rocks larger than approximately 100m that can come closer to Earth than 0.05 AU. None of the known PHAs is on a collision course with our planet, although astronomers are finding
new ones
all the time.
On May 13, 2020 there were
2018
potentially hazardous asteroids.

Recent & Upcoming Earth-asteroid encounters:
Asteroid

Date(UT)

Miss Distance

Velocity (km/s)

Diameter (m)

2020 HB6

2020-May-08

9.8 LD

9.1

52

2020 HC6

2020-May-09

2.9 LD

6

30

388945

2020-May-10

7.3 LD

8.8

295

2000 KA

2020-May-12

8.9 LD

13.5

162

2020 JK

2020-May-14

14.8 LD

20.1

56

2020 HS6

2020-May-14

16 LD

23.6

130

478784

2020-May-15

8.5 LD

3.6

28

2020 HA9

2020-May-15

18.2 LD

15.8

34

2020 HG9

2020-May-18

15.6 LD

10.6

72

136795

2020-May-21

16.1 LD

11.7

892

163348

2020-Jun-06

13.3 LD

11.1

339

2013 XA22

2020-Jun-09

10.6 LD

6.5

98

2017 MF7

2020-Jun-14

3.7 LD

10.9

23

2018 PD22

2020-Jun-19

17.2 LD

14.6

56

441987

2020-Jun-24

9.8 LD

12.9

186

2017 FW128

2020-Jun-25

6.9 LD

5.4

11

2019 AC3

2020-Jul-01

10.5 LD

3.4

12

2007 UN12

2020-Jul-04

16.7 LD

2.9

6

Notes: LD means "Lunar Distance." 1 LD = 384,401 km, the distance between Earth and the Moon. 1 LD also equals 0.00256 AU. MAG is the visual magnitude of the asteroid on the date of closest approach.

| | |
| --- | --- |
| | Cosmic Rays in the Atmosphere |

SOMETHING NEW! We have developed a new predictive model of aviation radiation. It's called E-RAD--short for Empirical RADiation model. We are constantly flying radiation sensors onboard airplanes over the US and and around the world, so far collecting more than 22,000 gps-tagged radiation measurements. Using this unique dataset, we can predict the dosage on any flight over the USA with an error no worse than 15%.

E-RAD lets us do something new: Every day we monitor approximately 1400 flights criss-crossing the 10 busiest routes in the continental USA. Typically, this includes more than 80,000 passengers per day. E-RAD calculates the radiation exposure for every single flight.

The Hot Flights Table is a daily summary of these calculations. It shows the 5 charter flights with the highest dose rates; the 5 commercial flights with the highest dose rates; 5 commercial flights with near-average dose rates; and the 5 commercial flights with the lowest dose rates. Passengers typically experience dose rates that are 20 to 70 times higher than natural radiation at sea level.

To measure radiation on airplanes, we use the same sensors we fly to the stratosphere onboard Earth to Sky Calculus cosmic ray balloons: neutron bubble chambers and X-ray/gamma-ray Geiger tubes sensitive to energies between 10 keV and 20 MeV. These energies span the range of medical X-ray machines and airport security scanners.

Column definitions: (1) The flight number; (2) The maximum dose rate during the flight, expressed in units of natural radiation at sea level; (3) The maximum altitude of the plane in feet above sea level; (4) Departure city; (5) Arrival city; (6) Duration of the flight.

SPACE WEATHER BALLOON DATA: Approximately once a week, Spaceweather.com and the students of Earth to Sky Calculus fly space weather balloons to the stratosphere over California. These balloons are equipped with radiation sensors that detect cosmic rays, a surprisingly "down to Earth" form of space weather. Cosmic rays can seed clouds, trigger lightning, and penetrate commercial airplanes. Furthermore, there are studies ( #1, #2, #3, #4) linking cosmic rays with cardiac arrhythmias and sudden cardiac death in the general population. Our latest measurements show that cosmic rays are intensifying, with an increase of more than 18% since 2015:

The data points in the graph above correspond to the peak of the Regener-Pfotzer maximum, which lies about 67,000 feet above central California. When cosmic rays crash into Earth's atmosphere, they produce a spray of secondary particles that is most intense at the entrance to the stratosphere. Physicists Eric Reneger and Georg Pfotzer discovered the maximum using balloons in the 1930s and it is what we are measuring today.

En route to the stratosphere, our sensors also pass through aviation altitudes:

In this plot, dose rates are expessed as multiples of sea level. For instance, we see that boarding a plane that flies at 25,000 feet exposes passengers to dose rates ~10x higher than sea level. At 40,000 feet, the multiplier is closer to 50x.

The radiation sensors onboard our helium balloons detect X-rays and gamma-rays in the energy range 10 keV to 20 MeV. These energies span the range of medical X-ray machines and airport security scanners.

Why are cosmic rays intensifying? The main reason is the sun. Solar storm clouds such as coronal mass ejections (CMEs) sweep aside cosmic rays when they pass by Earth. During Solar Maximum, CMEs are abundant and cosmic rays are held at bay. Now, however, the solar cycle is swinging toward Solar Minimum, allowing cosmic rays to return. Another reason could be the weakening of Earth's magnetic field, which helps protect us from deep-space radiation.

| | |
| --- | --- |
| | The official U.S. government space weather bureau |

| | |
| --- | --- |
| | The first place to look for information about sundogs, pillars, rainbows and related phenomena. |

| | |
| --- | --- |
| | Researchers call it a "Hubble for the sun." SDO is the most advanced solar observatory ever. |

| | |
| --- | --- |
| | 3D views of the sun from NASA's Solar and Terrestrial Relations Observatory |

| | |
| --- | --- |
| | Realtime and archival images of the Sun from SOHO. |

| | |
| --- | --- |
| | from the NOAA Space Environment Center |

| | |
| --- | --- |
| | fun to read, but should be taken with a grain of salt! Forecasts looking ahead more than a few days are often wrong. |

| | |
| --- | --- |
| | from the NOAA Space Environment Center |

| | |
| --- | --- |
| | the underlying science of space weather |

To find reviews of new online casino sites in the UK try The Casino DB where there are hundreds of online casino reviews complete with bonuses and ratings.

Get a bonus when playing at a new casino in the UK. The Genie got you covered! 

Looking for a new online casino? Try Casimpo the new site dedicated to making online casino simple and easy for all.

| | |
| --- | --- |
| | These links help Spaceweather.com stay online. Thank you to our supporters! |