Where's Saturn? Is that a UFO--or the ISS? What's the name of that star? Get the answers from mySKY--a fun new astronomy helper from Meade.

EXPLOSIVE DISCOVERIES: NASA's fleet of THEMIS satellites has made some surprising new discoveries about outbursts of Northern Lights called "substorms" and the source of their power. Findings include giant magnetic ropes that connect Earth to the Sun and explosions in the outskirts of Earth's magnetic field: full story.

NOT A COMET: Last night , sky watchers from England to Florida to Canada witnessed a new exploding comet--or so it seemed. "It looked like Comet Holmes!" says Alvaro Garay of Casselberry, Florida. Chris Schierer of Cazenovia, New York, saw the same thing and "wondered how such a bright naked-eye comet could have been missed." He snapped this picture using a Canon 20D: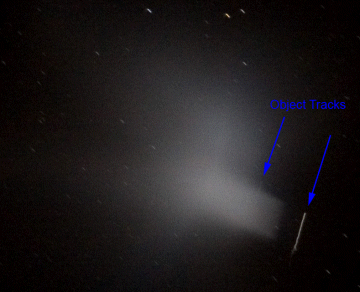 A pair of objects streaking through the cloud suggested "a satellite explosion or fuel dump." The latter is correct. This cloud mimicking Comet 17P/Holmes is fuel dumped from the upper stage of an Atlas rocket that launched a classified satellite into orbit for the National Reconnaissance Office on Dec. 10th. The event created a splendid display for about 50 minutes and then faded into the night.
EXTRA: See the fuel dump on video captured by Kevin Fetter of Ontario, Canada.
[Interactive World Map of Fuel Dump Sightings]
SUNSPOT MIRAGE: There's a smudge on this image of yesterday's setting sun, but it's not a defect in photographer Mila Zinkova's camera. "It's sunspot 978," she says.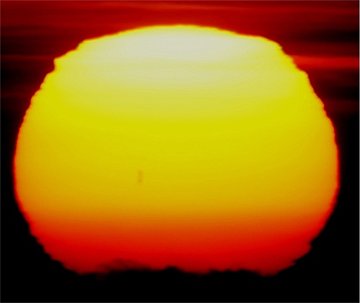 The enormous spot, along with the rest of the star, was distorted by temperature inversion layers in the air over San Francisco Bay, producing a beautiful mock mirage. "Yet a mirage without a green flash is like a story without the end," notes Zinkova, "and this mirage produced some very bright flashes." A satisfactory end indeed!
more images: from Pete Lawrence of Selsey, West Sussex, UK; from the Hinode spacecraft in Earth orbit; from J. Fairfull and J. Stetson of South Portland, Maine; from John Nassr of Baguio, the Philippines; from James Kevin Ty of Manila, the Philippines; from Javier Temprano of Santander, Spain; from Eric Soucy of Ohain, Belgium; from Ehsan Rostamizadeh of Kerman, Iran;
---
Comet 17P/Holmes Photo Gallery
[Interactive World Map of Comet Photos]
[sky map] [ephemeris] [3D orbit] [Night Sky Cameras]