Where's Saturn? Is that a UFO--or the ISS? What's the name of that star? Get the answers from mySKY--a fun new astronomy helper from Meade.

ASTEROID FLYBY: Asteroid 3200 Phaethon is flying past Earth today at a distance of 11 million miles. This asteroid is significant because it is the parent of the annual Geminid meteor shower due to peak later this week on Friday, Dec. 14th. Amateur astronomers with large backyard telescopes and CCD cameras may be able to photograph the space rock shining like a 14th magnitude star in the constellation Virgo: ephemeris.

CLOUDY COMET: Dec. 9th was a cloudy night in Darmstadt Germany, but that didn't prevent from Gunnar Glitscher from photographing Comet 17P/Holmes, shown here in a 30-second exposure with his off-the-shelf digital camera: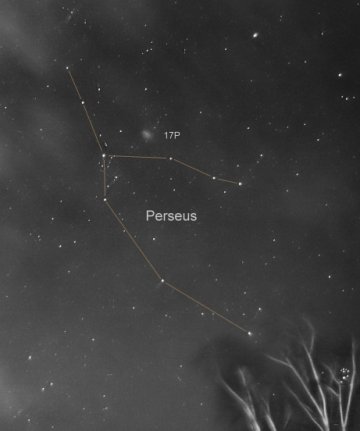 "To see this 1-degree comet monster in binoculars floating in front of the glittering star clouds of Perseus is simply overwhelming," he says. To the unaided eye, the comet resembles a puff of cloud, "a soft glow much like the star cluster M44 in Cancer."
So, comet chasers, ready your binoculars! Holmes awaits: skymap.
Comet 17P/Holmes Photo Gallery
[Interactive World Map of Comet Photos]
[sky map] [ephemeris] [3D orbit] [Night Sky Cameras]
SUNSET MIRAGE: "Every day recently I've been taking my Canon G9 to work where I have a nice view over Santa Monica Bay," reports photographer Jeff Hapeman of Santa Monica, California. "On December 4th I caught this amazing sunset mirage."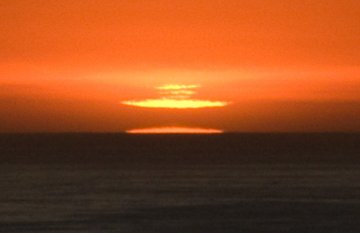 Photo details: Canon G9, ISO 80, 1/640s, f/4.8.
A temperature inversion layer split the setting sun into 3 ... 4 ... 5 pieces! Atmospheric optics expert Les Cowley says the California Coast is a good place to see such things. "The combination of cold offshore ocean current and warm winds from the land give temperature inversions, layers of abnormally hot and cold air that bend the sun's rays to form sunset mirages and green flashes."
In this particular case, "just one inversion has given us three squashed suns, one setting above the layer, one rising from the sea and another sinking towards it. Microstructure or multiple stacked inversions have split the topmost sun into three more little pieces."
The topmost sun often disappears with a final green flash. Says Hapeman, "I'm hoping to catch that next!"