Where's Saturn? Is that a UFO--or the ISS? What's the name of that star? Get the answers from mySKY--a fun new astronomy helper from Meade.

METEORS! The annual Geminid meteor shower is underway. "While going to work this morning, I saw three Geminids within 10 minutes--all of them roughly equal in brightness to the stars of the Big Dipper," reports Jarkko Laukkanen of Finland. The best is yet to come. Forecasters expect the shower to peak on Friday, Dec. 14th, when sky watchers could see dozens to hundreds of shooting stars. [full story] [sky map] [submit your photos]

EXPLOSIVE DISCOVERIES: NASA's fleet of THEMIS satellites has made some surprising new discoveries about outbursts of Northern Lights called "substorms" and the source of their power. Findings include giant magnetic ropes that connect Earth to the Sun and explosions in the outskirts of Earth's magnetic field: full story.

GHOSTLY AURORAS: A solar wind stream is buffeting Earth's magnetosphere and producing some lovely auroras. Regard the sky hours ago over Kiruna, Sweden: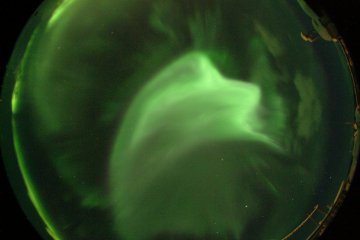 "This photo was taken by an all-sky camera at the Swedish Institute of Space Physics," says Spaceweather reader Yann. "It could easily get lost in the camera's huge archive updated automatically every minute. But this one is too special to go unpublished--a real ghostly aurora!"
Sky watchers from Scandinavia to Alaska should remain alert for more spooky lights as the solar wind continues to blow: gallery.
SUNSPOT 978: Sprawling sunspot group 978 now consists of more than 40 dark magnetic knots--each as wide as a small planet or moon. The largest of the ensemble is shown in this high-resolution snapshot taken yesterday by Japan's Hinode spacecraft:
The spot's dark core is wide enough to swallow Earth while the turbulent granules bubbling around the spot compare in scale to a large state such as Texas or California. Such detail. No wonder researchers call Hinode a "Hubble for the Sun."
Despite its great size, the sunspot 978 poses little threat for solar flares. The region's magnetic field is uncomplicated and stable--not prone to explosions. As a photo-op, however, it is quite spectacular.
video: Yesterday Gary Palmer of Los Angeles photographed seething magnetic activity around sunspot 978: video. "Isn't Mother Nature wonderful!" he says.
more images: from Malcolm Park of London, UK; from Pete Lawrence of Selsey, West Sussex, UK; from Paul Haese of Blackwoo, South Australia; from Alcaria Rego of Almada - Portugal; from John Nassr of Baguio, the Philippines; from James Kevin Ty of Manila, the Philippines; from Javier Temprano of Santander, Spain; from Eric Soucy of Ohain, Belgium; from Ehsan Rostamizadeh of Kerman, Iran;
---
Comet 17P/Holmes Photo Gallery
[Interactive World Map of Comet Photos]
[sky map] [ephemeris] [3D orbit] [Night Sky Cameras]