Where's Saturn? Is that a UFO--or the ISS? What's the name of that star? Get the answers from mySKY--a fun new astronomy helper from Meade.

NO IMPACT: NASA scientists tracking asteroid 2007 WD5 say it will not hit Mars on Jan. 30th. "The impact probability has dropped dramatically, to approximately 0.01% or 1 in 10,000 odds, effectively ruling out the possible collision," according to an update issued yesterday by JPL's Near Earth Object Program Office: full story.

CURIOUS SUNSPOT: A new sunspot is emerging just south of the sun's equator, and it is a curious one. The spot's magnetic polarity is reversed compared to other nearby magnetic patches on the sun's surface. This Jan. 11th SOHO magnetogram shows the spot (circled) and its odd polarity:


Click to view a movie of the new sunspot emerging.
Reversed-polarity sunspots are signs of a new solar cycle and, indeed, Solar Cycle 24 began just last week. So far, so good. But this spot is near the equator. New-cycle spots are supposed to be at high latitudes--hence the curiosity. Is this a genuine new-cycle spot? A weird old-cycle spot? Readers with solar telescopes are encouraged to monitor the situation.
HOLMES AND ALGOL: In less than 10 days, Comet 17P/Holmes will appear to swallow the bright and famous star Algol. Last night in Fuerstenfeldbruck, Germany, Thorsten Boeckel photographed the pair converging: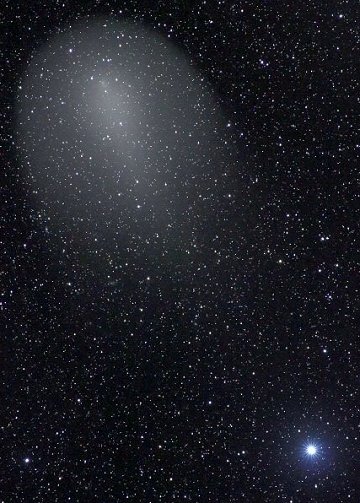 Photo details: Canon 20D, ASA 800, 2 x 110s exposure
More than two months after it exploded, "Comet Holmes can still be observed in dark areas with the naked eye. It is surprisingly easy," he says. "But near big towns the object becomes really hard to see."
For the next two weeks, finding Holmes won't be so difficult. Simply look straight up after sunset and locate Algol in the constellation Perseus. Comet Holmes is right beside it: sky map. A 60-second exposure with an off-the-shelf digital camera reveals the comet--no telescope required.
Comet 17P/Holmes Photo Gallery
[World Map of Comet Sightings]
[sky map] [comet binoculars] [ephemeris] [3D orbit]