Where's Saturn? Is that a UFO--or the ISS? What's the name of that star? Get the answers from mySKY--a fun new astronomy helper from Meade.

AURORA WATCH: Sky watchers from Alaska to Scandinavia should be alert for auroras on Jan. 14th and 15th. A solar wind stream is heading toward Earth and might spark a geomagnetic storm when it arrives 2 to 3 days from now.

SOLAR ACTIVITY: A new solar cycle has begun, but so far it has produced no photogenic sunspots. Indeed, the face of the sun is disinterestingly blank. Sun-photographer Larry Alvarez of Flower Mound, Texas, found the scene he was looking for, however, on the sun's limb: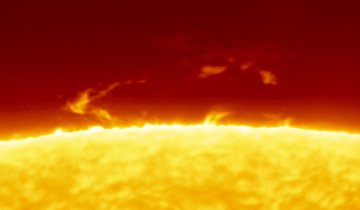 "I captured these prominences on Jan. 11th using my Coronado SolarMax90," says Alvarez. "Their ghostly appearance was striking against the the black background of space."
Prominences are clouds of solar hydrogen held above the sun's surface by magnetic fields. They are present during all phases of the solar cycle--from maximum to minimum and back again. No sunspots? No problem. Photographers, when the sun is blank, look to the limb.
NO TELESCOPE REQUIRED: Long-fading Comet 17P/Holmes is still visible to the naked eye. Toni Scarmato sends this photo from Calabria, Italy. "I estimate its visual magnitude to be +3.5." This means the comet is easy to see from the dark countryside (look straight up after sunset) but a challenge from cities.
On Jan. 11th, P-M Hedén visited a 1000-year-old Viking church near Vallentuna, Sweden, and found the pointed roof leading his gaze straight up to Holmes: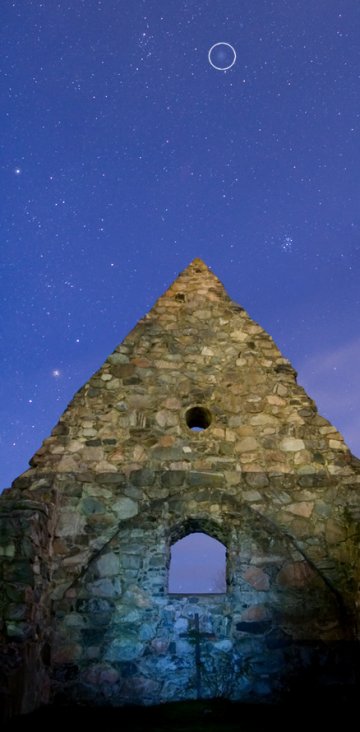 "Standing inside that church, looking up into the sky to see the stars, planets and a comet felt really special," he says. The photo required no telescope, just an off-the-shelf Canon Digital Rebel XT.
Comet 17P/Holmes Photo Gallery
[World Map of Comet Sightings]
[sky map] [comet binoculars] [ephemeris] [3D orbit]