Where's Saturn? Is that a UFO--or the ISS? What's the name of that star? Get the answers from mySKY--a fun new astronomy helper from Meade.

NO IMPACT: NASA scientists tracking asteroid 2007 WD5 say it will not hit Mars on Jan. 30th. "The impact probability has dropped dramatically, to approximately 0.01% or 1 in 10,000 odds, effectively ruling out the possible collision," according to an update issued yesterday by JPL's Near Earth Object Program Office: full story.

SUNSET MOON: Tonight, when the sun sets and the western sky fades to twilight blue, dash outside. You may see a sight like this: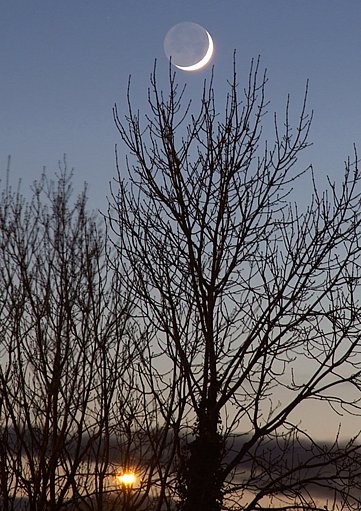 Martin McKenna took the picture just hours ago from Maghera, N. Ireland. "The crescent Moon with earthshine was really beautiful," he says. Don't miss it!
more images: from Gary A. Becker of Coopersburg, PA; from Doug Zubenel of De Soto, Kansas; from Sam Cole of Austin, Texas; from Alvaro Garay of Casselberry, Florida; from Mark D. Marquette of Gray, Tennessee;
GREEN SNOW: Geography quiz: Where does the snow turn green at midnight? Answer: Nunavik, the Arctic homeland of Quebec's Inuit. On January 8th, just outside the village of Salluit, photographer Sylvain Serre photographed the phenomenon: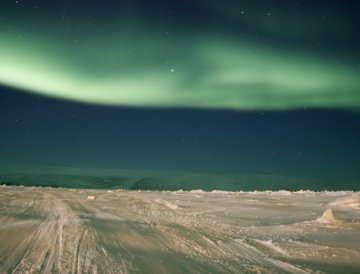 Photo details: Canon EOS 30D, 1600 ISO, 15 sec., f4.0
"These auroras were so bright," he says, they were reflected "in the ice and snow."
The display, overhead and underfoot, was sparked by a solar wind stream buffeting Earth's magnetic field. That same solar wind stream continues to blow, raising hopes for more green snow tonight. Sky watchers from Alaska to Quebec to Scandinavia should remain alert for auroras.
January 2008 Aurora Gallery
[World Map of Aurora Sightings]
[aurora alerts] [Night-sky Cameras]