Where's Saturn? Is that a UFO--or the ISS? What's the name of that star? Get the answers from mySKY--a fun new astronomy helper from Meade.

SOLAR X-RAY JETS: Astronomers using Japan's Hinode spacecraft have discovered that the sun is bristling with powerful "X-ray jets." They spray out of the sun's surface hundreds of times a day, launching blobs of hot gas as wide as North America at a top speed of two million miles per hour. These jets add significant mass to the solar wind and they may help explain a long-standing mystery of astrophysics: the superheating of the sun's corona: full story.

BIG SUNSPOT: Sunspot 978 popped over the sun's eastern limb yesterday and it is quickly becoming one of the largest sunspots of the year. Pete Lawrence of Selsey UK photographed the active region this morning: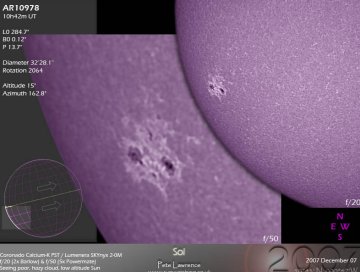 "The image was taken through a Coronado Calcium-K PST," says Lawrence. "Its nice to see something tangible crossing the solar disk again." Sunspot 978 poses no threat for strong solar flares but this could change if its rapid growth continues. Stay tuned!
more images: from Paul Haese of Blackwood, South Australia; from Peter Paice of Belfast, Northern Ireland; from Alcaria Rego of Almada - Portugal; from J. Fairfull and John Stetson of South Portland, Maine; from Robert Morlan of La Porte, Indiana;
3D SUNBEAMS: Sometimes the best solar activity is a sunbeam. Put on your 3D glasses and regard the following: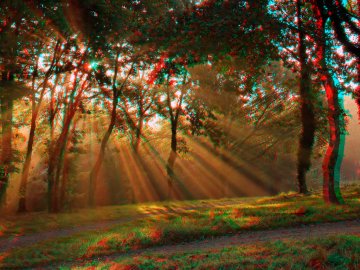 The anagylph was created from a pair of photos taken by Laurent Laveder of Quimper, France. "This morning, due to a thin haze in the valley, some nice crepuscular rays appeared," he says. "It was a nice opportunity to capture the relief with a 3D view." The full sized image is guaranteed to startle.
---
Comet 17P/Holmes Photo Gallery
[Interactive World Map of Comet Photos]
[sky map] [ephemeris] [3D orbit] [Night Sky Cameras]