Where's Saturn? Is that a UFO--or the ISS? What's the name of that star? Get the answers from mySKY--a fun new astronomy helper from Meade.

SUNDAY LAUNCH: The space shuttle is now scheduled to leave Earth on Sunday, Dec. 9th, at 3:21 p.m. EST. At the Kennedy Space Center, photographer Mike Theiss took these pictures of Atlantis waiting on its launch pad. "The puddles of water made some neat reflections," he says. Sunday's liftoff will mark the beginning of an 11-day construction mission to the International Space Station and some bright flybys of the ISS+shuttle visible from backyards on Earth: alerts.

BIG SUNSPOT: Sunspot 978 popped over the sun's eastern limb on Dec. 6th and it has quickly become one of the largest sunspot groups of the year. Measuring 5 times wider than Earth, it is an easy target for backyard solar telescopes. Rogerio Marcon of Sao Paulo, Brazil, photographed the behemoth this morning: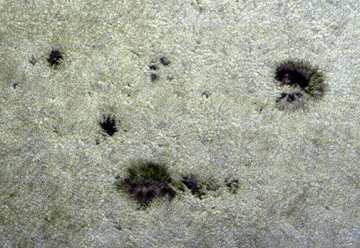 Sunspot 978 poses no threat for strong solar flares but this could change if its rapid growth continues. Stay tuned!
more images: from the Hinode spacecraft in Earth orbit; from J. Fairfull and J. Stetson of South Portland, Maine; from John Nassr of Baguio, Philippines; from Pete Lawrence of Selsey, UK; from Cai-Uso Wohler of Bispingen, Germany; from Paul Haese of Blackwood, South Australia; from Peter Paice of Belfast, Northern Ireland;
3D SUNBEAMS: Sometimes the best solar activity is a sunbeam. Put on your 3D glasses and regard the following: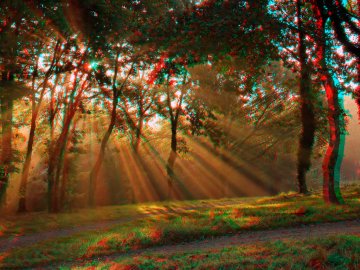 The anagylph was created from a pair of photos taken by Laurent Laveder of Quimper, France. "This morning, due to a thin haze in the valley, some nice crepuscular rays appeared," he says. "It was a nice opportunity to capture the relief with a 3D view." The full sized image is guaranteed to startle.
---
Comet 17P/Holmes Photo Gallery
[Interactive World Map of Comet Photos]
[sky map] [ephemeris] [3D orbit] [Night Sky Cameras]