Where's Saturn? Is that a UFO--or the ISS? What's the name of that star? Get the answers from mySKY--a fun new astronomy helper from Meade.

EMERGING SUNSPOT: A new sunspot is emerging over the sun's eastern limb and it could be a big one, at least by the standards of solar minimum. If you have a solar telescope, take a look.

SOLAR X-RAY JETS: Astronomers using Japan's Hinode spacecraft have discovered that the sun is bristling with powerful "X-ray jets." They spray out of the sun's surface hundreds of times a day, launching blobs of hot gas as wide as North America at a top speed of two million miles per hour. Click on the image below to view a movie: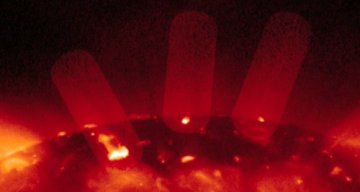 These jets add significant mass to the solar wind and they may help explain a long-standing mystery of astrophysics: the superheating of the sun's corona. Science@NASA has the full story.
COMET 17P/HOLMES: Contrary to rumor, Comet 17P/Holmes has not faded away. From any dark starry-skied observing site, it remains visible to the naked eye. Although the comet is not as bright as it was when it exploded in late October, it makes up for its lack of surface brightness by sheer size: the comet is huge! It looks like a faint Moon-sized puff of cloud in the middle of the constellation Perseus--a really splendid sight: sky map.
Can you find the comet in this Nov. 16th photo of the great pyramids of Giza?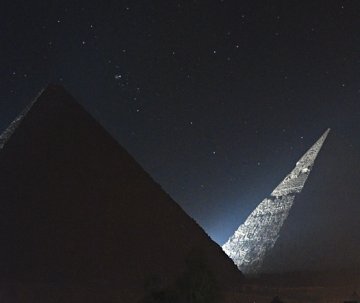 "It was a night to remember," says vacationing photographer Slavko Stojanov of Serbia. "The north African sky at Giza was out of this world."
Comet 17P/Holmes Photo Gallery
[Interactive World Map of Comet Photos]
[sky map] [ephemeris] [3D orbit] [Night Sky Cameras]