| | | |
| --- | --- | --- |
| MOTHER'S DAY: Give your mom a truly heavenly gift on May 11th--a subscription to Space Weather PHONE! | | |
THE ACTION IS... on the edge of the sun. A large prominence is dancing along the sun's western limb, changing shape so fast it is tricky to photograph and even trickier to sketch. Readers, if you have a solar telescope, take a look.
more images: from Greg Piepol of Rockville, Maryland; from Stephen Ames of Hodgenville, Kentucky; from Steve Wainwright of South Wales, UK; from Cai-Uso Wohler of Bispingen, Germany;
MERCURY & THE MOON: When the sun goes down tonight, step outside and look west. You'll find Mercury and the Moon beaming side-by-side through the sunset. Seeing Mercury is rare enough; seeing Mercury together with an exquisite crescent Moon is out of this world! You won't even need a sky map.
SUN HALO: Look into the eyes of someone you love and behold ... a sun halo? It happened yesterday in Spain, says photographer Enrique Luque Cervigón. "There was a 22-degree halo reflected in the glasses of my girlfriend."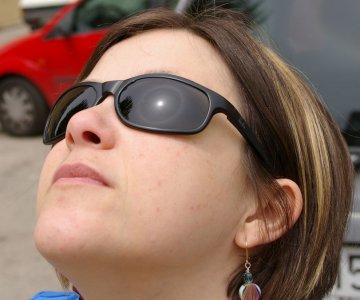 "The sky over Madrid was criss-crossed by high clouds," he explains. Ice crystals in those clouds caught the rays of the sun and bent them into a magnificent halo. Displays like these are common enough, but often missed because the glare of the sun makes us divert our gaze. Now you know where to look.
more images: from Wah! of Hong Kong; from Jean Chiasson of Varadero, Cuba; from Yasmin Angelique Walter near Frankfurt, Germany; from Mustafa Erol of Antalya, Turkey; from Jonas Förste of Jakobstad, Finland;
BOULDER & GALAXY: Unbeknownst to billions of humans sleeping calmly on Earth below, massive asteroid 7 Iris spent the night of May 5th buzzing the Sombrero Galaxy (M104). Insomniac astronomer Dennis Simmons photographed the encounter from Brisbane, Australia:
"Oh, the agony and the ecstasy of asteroid hunting!" he says. "I am accustomed to chasing down very faint and immensely fast Near Earth Objects from the SpaceWeather list. Last night, I found myself recording the more pedestrian gait of bright asteroid 7 Iris as it sailed by the Sombrero Galaxy: animation."
There was never any danger of a collision. The Sombrero Galaxy is 30 million light years from Earth while asteroid Iris is only 16 light minutes away--a difference of more than 1020 km. The quiet beauty of the scene was stimulant enough to waken those who knew.
BONUS: "Asteroid 7 Iris was not alone as it skirted the Sombrero Galaxy in Virgo," points out Bill Williams of the Chiefland Astronomy Village in Florida. "In fact, Iris was secretly, it seems, accompanied by no fewer than 4 other main belt asteroids within 15 arcminutes on the night of May 4-5, 2008 when everyone was looking! My 2 hour exposure revealed 2 of these faint companions and this animation shows the locations of the others."
more images: from Martin Wagner of Sonnenbuehl, Germany; from Peter van Leuteren at the Cosmos Observatory in Lattrop, the Netherlands; from Eugene Miller of Brooklyn, New York; from Steven Janowiecki of Kitt Peak, Arizona; from Alberto Quijano Vodniza of Pasto, Nariño, Colombia; from Roman Piffl, Tomas Maruska and Ivan Majchrovic of Marianka, Slovakia
---
April 2008 Aurora Gallery
[Aurora Alerts] [Night-sky Cameras]