| | | |
| --- | --- | --- |
| MOTHER'S DAY: Give your mom a truly heavenly gift on May 11th--a subscription to Space Weather PHONE! | | |
AMAZING PROMINENCE: Today, a massive solar prominence is delighting amateur astronomers with its rapid mutations. "I've seen lots of prominences in my time, but this one is totally amazing," reports Pete Lawrence of Selsey, UK. "Each half-hour shot I took of it recorded large structural changes." One photo, he insists, looks like a War of the Worlds martian. "That's the best part of solar astronomy, it's never the same," adds Greg Piepol of Rockville, Maryland. Readers, if you have a solar telescope, look now!
EARLY NOCTILUCENT CLOUDS: Just before daybreak on May 5th, experienced sky watchers in Northern Ireland were surprised by a sudden apparition of noctilucent clouds (NLCs). "I was outdoors looking for eta Aquarid meteors when I spotted an eerie glow between my neigbour's houses." reports Martin McKenna of Maghera, Co. Derry. "The strong blue color was unmistakable--it was an NLC." He took this picture at 4 a.m. local time: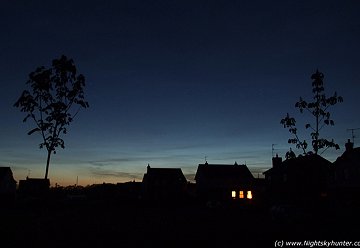 Noctilucent clouds are mainly a summertime phenomenon and it is very unusual for them to appear so early in May. "In my long years of observing NLCs, this is the earliest I have ever seen them," says John C McConnell who photographed the same May 5th display from Maghaberry, Northern Ireland: image.
These sightings only add to the mystery of NLCs. High-latitude "night-shining clouds" were first reported in the 19th century after the eruption of super-volcano Krakatoa. At the time, the clouds were widely thought to be associated with the volcano. Long after the ash settled, however, NLCs persisted. In recent years they have intensified and spread with sightings as far south as Utah and Colorado. What causes the phenomenon? A NASA spacecraft named AIM is orbiting Earth on a mission to find out.
The early onset of NLCs could herald a spectacular season to come. Readers, browse our 2007 NLC Photo Gallery for observing tips.
Noctilucent Cloud Photo Gallery
["Noctilucent Cloud"--the song] [NLC Basics]
SUNSET SKY SHOW: Last night, sky watchers around the world enjoyed a lovely conjunction of the crescent Moon and Mercury. As soon as the sun went down, the duo popped out of the darkening western twilight: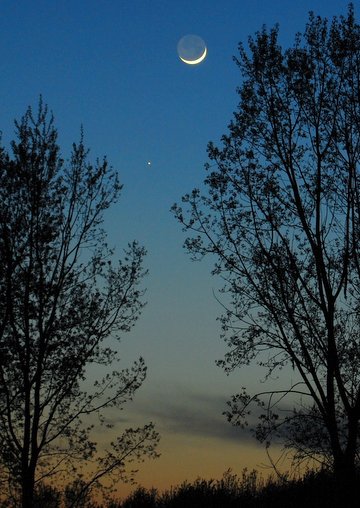 "I noticed the alert on SpaceWeather saying the Moon and Mercury would be close together," says photographer Daniel O'Malley of DeWitt, Michigan. "The sky was clear, I had my Nikon D40X handy and I took this 3-second exposure at ISO 200."
A similar (but less dramatic) scene repeats tonight. At sunset, look for the crescent Moon well above the tree tops; trace a line straight down to find Mercury: sky map.
more images: from Jerzy Rafalski of Piwnice near Torun, Poland; from David Joly of Trois-Rivières, Québec, Canada; from Donatas Tamonis near Kaunas, Lithuania; from Dr. Fritz Helmut Hemmerich atop the Teide volcano, Canary Islands; from Tamas Ladanyi of Lake Balaton, Hungary; from Thierry Demange of Ribeauvillé, Alsace, France; from Kevin Jung of Grand Rapids, Michigan; from P-M Hedén of Vallentuna, Sweden.
---
April 2008 Aurora Gallery
[Aurora Alerts] [Night-sky Cameras]