| | | |
| --- | --- | --- |
| MOTHER'S DAY: Give your mom a truly heavenly gift on May 11th--a subscription to Space Weather PHONE! | | |
LARRY, CURLY, AND MO: There are three entertaining little prominences on the sun's western limb today. Astrophotographer Alan Friedman of Buffalo, NY, calls them "Larry, Curly and Mo." Seriously! Train your solar telescope on the edge of the sun to catch the show.
more images: from Tom Hilger of Nashua, New Hampshire; from Hank Bartlett of Near Yarker, Ontario; from Patricia Cannaerts of Belgium; from E. Signorelli and J. Stetson of South Portland, Maine;
ETA AQUARID METEORS: If you see a meteor flit across the sky tonight, it's probably a piece of Halley's Comet. Earth is crossing through a stream of dusty debris from Halley and this is causing the annual eta Aquarid meteor shower. Sky watchers in the tropics and southern hemisphere (where the shower is most intense) could see as many as 70 meteors per hour during the dark hours before dawn on Monday, May 5th, and Tuesday, May 6th. Sky maps: north, south.
MERCURY RISING: Lately, have you noticed a bright star hanging in the western sky at sunset? That's no star--it's Mercury. The innermost planet is emerging from the glare of the sun and putting on its best show of 2008. Here is the view on May 4th from the Canary Islands: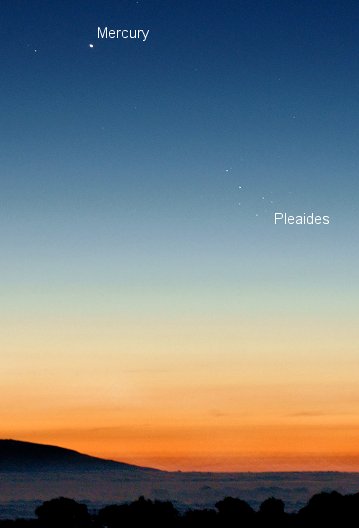 "I took this picture about 30 minutes after sunset from a spot 2400 meters high on the Teide volcano in Tenerife," says photographer Dr. Fritz Helmut Hemmerich. "My Sony Alpha A700 was set to ASA 800 for the 8-second exposure."
Mercury will be visible every night for the next two weeks, but there is one night better than the others: May 6th when the crescent Moon glides by Mercury forming a beautiful and eye-catching duo. Mark your calendar and take a look: sky map.
more images: from Tamas Ladanyi of Lake Little-Balaton, Hungary; from Martin McKenna of Maghera, Co. Derry, N. Ireland; from Pete Lawrence of Selsey, West Sussex, UK; from Günther Strauch of Borken, NRW, Germany;
GEMINI TRIPLET: "After photographing Mercury and the Pleiades last night, my attention was drawn upward to the striking asterism of Castor, Pollux and Mars all in a line," reports Doug Zubenel of Flint Hills, Kansas: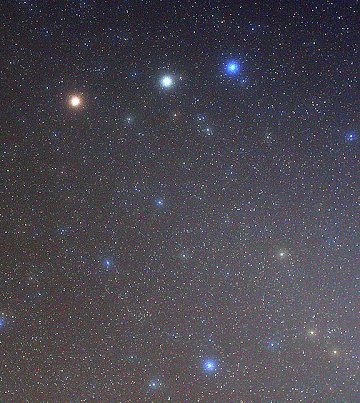 This starry image is not a telescopic view, just the result of a 3 minute exposure at ISO 800 through Zubenel's Canon Rebel XTi digital camera. "Note the color contrasts between the three," he says. Mars is, of course, the red one.
Readers, tonight after spotting Mercury, pause and glance up. The Gemini Triplet awaits: sky map.
---
April 2008 Aurora Gallery
[Aurora Alerts] [Night-sky Cameras]