| | | |
| --- | --- | --- |
| NEW AND IMPROVED: Turn your iPhone or iPod Touch into a field-tested global satellite tracker. The Satellite Flybys app now works in all countries. | | |
SHUTTLE SKY SHOW: Thousands of people who gather in Florida on Monday morning to witness the launch of space shuttle Discovery may get more than they bargained for. Fifteen minutes before the shuttle takes off, the International Space Station will soar over Cape Canaveral, past the gibbous Moon and almost directly above Discovery. How cool is that? Photographers in Florida should be prepared for the ISS flyby at 6:06 am EDT followed by the shuttle launch at 6:21 am EDT.
SUNSET PLANETS: This weekend, Venus and Mercury are converging in the western sky for a sunset conjunction. At closest approach on Sunday, April 4th, the solar system's innermost planets will be just 3o apart. You can see them easily with the naked eye--no telescope required: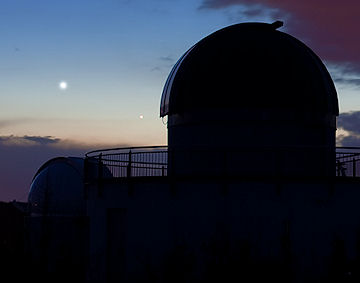 "What a beautiful sight!" says Jens Hackmann. "I took this picture of the pair shining over the Weikersheim observatory dome in southern Germany on April 1st. They were so bright, I could even see them reflected in the rear window of my car."
Observing tip: Look before the evening sky fades to black. Two bright planets framed by deep twilight blue is a beautiful sight indeed. Sky maps: April 3, 4.
more images: from Geir Øye of Ørsta, Norway; from Mitsuo Muraoka of Saitama, Japan; from Aymen Ibrahem of Giza, Egypt; from Alexei Pace of Rabat, Malta; from Mike O'Leary of El Cajon, CA; from Eddie Ledbetter of Register, Georgia; from Doug Zubenel of Cedar Creek, Kansas; from Martin Gembec of Izera Mountains, Czech Republic; from Mark Peter of Pickerington, Ohio
NORTHERN SPRING: A solar wind stream is buffeting Earth's magnetic field and sparking some lovely springtime auroras around the Arctic Circle "Last night, I was able to watch the auroras while at the same time listening to the songs of spring-birds like the oystercatchers who have started to arrive in the North," says photographer Fredrik Broms, who sends this picture from Kvaløya, Norway: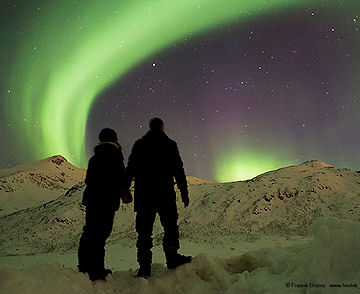 "Here in the North, the nights are getting shorter and the midnight sun is just around the corner," notes Broms. "These could be some of the last auroras we see for a while. If so, it was a very nice way to end a great aurora season."
It's nott overr yet, though. The solar wind is expected to blow hard for another 24 hours or so. High-latitude sky watchers should remain alert for Northern Lights.
April Northern Lights Gallery
[previous Aprils: 2009, 2008, 2007, 2006, 2005, 2004, 2003, 2002]