| | | |
| --- | --- | --- |
| NEW AND IMPROVED: Turn your iPhone or iPod Touch into a field-tested global satellite tracker. The Satellite Flybys app now works in all countries. | | |
SHUTTLE SKY SHOW: Thousands of people who gather in Florida on Monday morning, April 5th, to witness the dawn launch of space shuttle Discovery may get more than they bargained for. Fifteen minutes before the shuttle takes off, the International Space Station will soar over Cape Canaveral, past the gibbous Moon and almost directly above Discovery. How cool is that? Photographers in Florida should be prepared for the ISS flyby at 6:06 am EDT followed by the shuttle launch at 6:21 am EDT. Submit your images here.
SUNSET PLANETS: When the sun sets tonight, go outside and look west. Venus and Mercury are in conjunction, beaming through the twilight only 3o apart. Images #1, #2, #3, #4, #5.
MIDNIGHT SUN vs. AURORAS: For observers around the Arctic Circle, April marks the end of aurora season. The midnight sun is coming, and soon it will overwhelm the Northern Lights. "Soon, but not yet," says Ian Robins of Norway. "Last night at midnight, the last rays of sunlight were fading away when we witnessed a really strong burst of auroras. The whole sky lit up in a fantastic display over Hovden in the Vesterålen islands."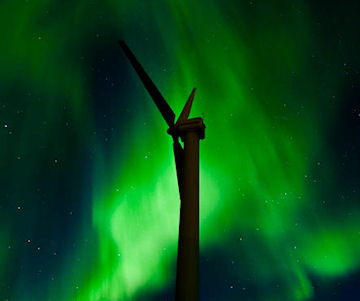 "It was something special to see the auroras with the last light of the day still lingering in the background," says Robins. "I recorded the scene using a Nikon 300D set at ISO 800 for 30 seconds."
High-latitude photographers, take note of those settings. The solar wind continues to blow, so there could be another photo-op tonight.
UPDATED: April Northern Lights Gallery
[previous Aprils: 2009, 2008, 2007, 2006, 2005, 2004, 2003, 2002]
IN THE EYE OF THE BEHOLDER: Do dogs appreciate the sky? Tony Phillips, author of spaceweather.com and a longtime dogsledder with twenty Siberian huskies in his backyard, believes the answer could be "yes." Many times he's heard the songs huskies sing at the Moon and caught pairs of blue eyes fixed on a starry sky. It always seems to be more than just a blank stare.
With these points in mind, consider the folowing: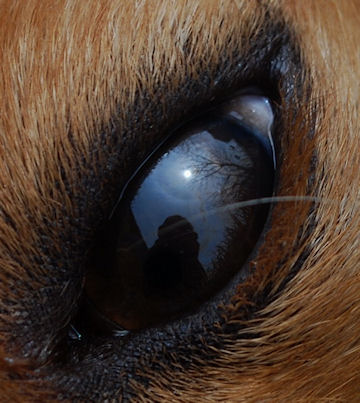 Károly Vicián took the picture on April 4th in Heréd, Hungary. "We had a lot of high cirrus around noontime," he says. "When sunlight hit those icy clouds, a vivid 22o halo appeared in the sky. Later I sighted it in my dog's eye when we were playing, and I bent over for a quick shot with my Nikon D80."
Is it just a reflection, or is there beauty in the eye of the beholder? Readers must decide for themselves; Vicián's dog refuses to say.
more images: from Roberta Welton of Monarch, Utah; from Tibor Hollósy of Budapest, Hungary; from Gilles Boutin of Parc des Pingualuit Nunavik