| | | |
| --- | --- | --- |
| NEW AND IMPROVED: Turn your iPhone or iPod Touch into a field-tested global satellite tracker. The Satellite Flybys app now works in all countries. | | |
AURORA WATCH: A solar wind stream is buffeting Earth's magnetic field and causing geomagnetic disturbances at high latitudes. Arctic sky watchers should be alert for last-chance auroras. The midnight sun is coming!
April 2nd aurora shots: from Fredrik Broms of Kvaløya, Norway; from Bernard Marschner of Fairbanks Alaska; from LeRoy Zimmerman of Ester, Alaska
PLAYING HOOKY: Is solar activity bad for the economy? A massive prominence on the sun's northeastern limb seems to be distracting the workforce. "This gorgeous prominence has me mesmerized behind my telescope instead of behind my desk," confesses astrophotographer Alan Friedman, who sends this picture from his backyard observatory in Buffalo, New York: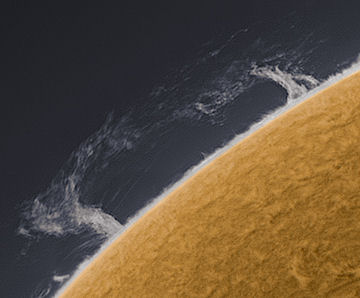 "Please don't tell my boss!"
Also, he notes, "the distance between the uprights of this massive prominence measures about 90,000 miles... an easy goal with the Earth as a soccer ball."
Readers, if you have a solar telescope, today would be a good day to play hooky.
more images: from Pete Lawrence of Selsey, West Sussex, UK; from Eric Roel of Valle de Bravo, Mexico; from John Minnerath of Crowheart, Wyoming; from Steve Wainwright of Gower S.Wales UK; from Cai-Uso Wohler of Bispingen, Germany; from Robert Arnold of Isle of Skye, Scotland; from James Kevin Ty of Manila , Philippines; from Gernot Lausen of Fleckeby, Schleswig-Holstein, Germany; from Aleksander Trebacz of Niepolomice, Poland; from Matt Wastell of Brisbane, Australia; from John Nassr of Baguio, Philippines; from Marco Vidovic of Stojnci, Slovenia; from Peter Paice of Belfast, Northern Ireland; from John Vertson of Clovis, CA; from Andy Devey of Barnsley, South Yorkshire, England;
SUNSET PLANETS: This weekend, Venus and Mercury are converging in the western sky for a sunset conjunction. At closest approach on Sunday, April 4th, the solar system's innermost planets will be just 3o apart. You can see them easily with the naked eye--no telescope required: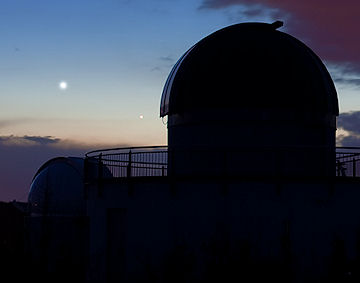 "What a beautiful sight!" says Jens Hackmann. "I took this picture of the pair shining over the Weikersheim observatory dome in southern Germany on April 1st. They were so bright, I could even see them reflected in the rear window of my car."
Observing tip: Look before the evening sky fades to black. Two bright planets framed by deep twilight blue is a beautiful sight indeed. Sky maps: April 3, 4.
more images: from Eduardo Barioni of San Antonio de los Baños, Cuba; from Mahdi Zamani of Qeshm island, Persian gulf, Iran; from Adrian New of San Antonio, Texas; from Jeff Green of Nashville, TN; from Paco Bellido of Córdoba, Spain; from Ramon Lane of Torrevieja, Spain;
---
March Northern Lights Gallery
[previous Marches: 2009, 2008, 2007, 2006, 2005, 2004, 2003]