| | | |
| --- | --- | --- |
| Never miss another geomagnetic storm. Sign up for Space Weather Alerts and you'll receive a text message when auroras appear in your area. Aurora tour guides and professional astronomers use this service. Now you can, too! | | |
ASTEROID FLYBY: Today, Sept. 1st, asteroid 2011 ES4 is flying through the Earth-Moon system only 72,000 miles from Earth. The space rock is 30 meters in diameter. For comparison, that's about the same size as the famous Chelyabinsk meteor of 2013, which broke windows and knocked down parts of buildings in six Russian cities when it exploded in the atmosphere east of the Ural Mountains. Unlike Chelyabinsk, however, 2011 ES4 will not hit Earth. Maybe next time.
A WARNING FROM HISTORY--THE CARRINGTON EVENT WAS NOT UNIQUE: On Sept. 1st, 1859, the most ferocious solar storm in recorded history engulfed our planet. It was "the Carrington Event," named after British scientist Richard Carrington, who witnessed the flare that started it. The storm rocked Earth's magnetic field, sparked auroras over Cuba, the Bahamas and Hawaii, set fire to telegraph stations, and wrote itself into history books as the Biggest. Solar. Storm. Ever.
But, sometimes, what you read in history books is wrong.
"The Carrington Event was not unique," says Hisashi Hayakawa of Japan's Nagoya University, whose recent study of solar storms has uncovered other events of comparable intensity. "While the Carrington Event has long been considered a once-in-a-century catastrophe, historical observations warn us that this may be something that occurs much more frequently."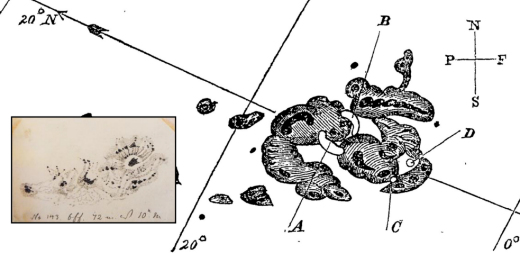 Above: Drawings of the Carrington sunspot by Richard Carrington on Sept. 1, 1859, and (inset) Heinrich Schwabe on Aug. 27, 1859. [Ref]
To generations of space weather forecasters who learned in school that the Carrington Event was one of a kind, these are unsettling thoughts. Modern technology is far more vulnerable to solar storms than 19th-century telegraphs. Think about GPS, the internet, and transcontinental power grids that can carry geomagnetic storm surges from coast to coast in a matter of minutes. A modern-day Carrington Event could cause widespread power outages along with disruptions to navigation, air travel, banking, and all forms of digital communication.
Many previous studies of solar superstorms leaned heavily on Western Hemisphere accounts, omitting data from the Eastern Hemisphere. This skewed perceptions of the Carrington Event, highlighting its importance while causing other superstorms to be overlooked.
A good example is the great storm of mid-September 1770, when extremely bright red auroras blanketed Japan and parts of China. Captain Cook himself saw the display from near Timor Island, south of Indonesia. Hayakawa and colleagues recently found drawings of the instigating sunspot, and it is twice the size of the Carrington sunspot group. Paintings, dairy entries, and other newfound records, especially from China, depict some of the lowest-latitude auroras ever, spread over a period of 9 days.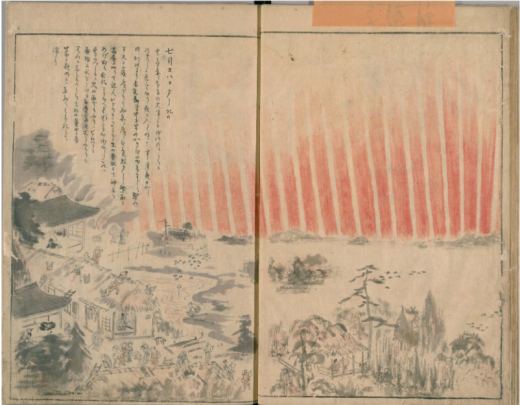 Above: An eyewitness sketch of red auroras over Japan in mid-September 1770. [Ref]
"We conclude that the 1770 magnetic storm was comparable to the Carrington Event, at least in terms of auroral visibility," wrote Hayakawa and colleagues in a 2017 Astrophysical Journal Letter. Moreover, "the duration of the storm activity was much longer than usual."
Hayakawa's team has delved into the history of other storms as well, examining Japanese diaries, Chinese and Korean government records, archives of the Russian Central Observatory, and log-books from ships at sea--all helping to form a more complete picture of events.
They found that superstorms in February 1872 and May 1921 were also comparable to the Carrington Event, with similar magnetic amplitudes and widespread auroras. Two more storms are nipping at Carrington's heels: The Quebec Blackout of March 13, 1989, and an unnamed storm on Sept. 25, 1909, were only a factor of ~2 less intense. (Check Table 1 of Hayakawa et al's 2019 paper for details.)
"This is likely happening much more often than previously thought," says Hayakawa.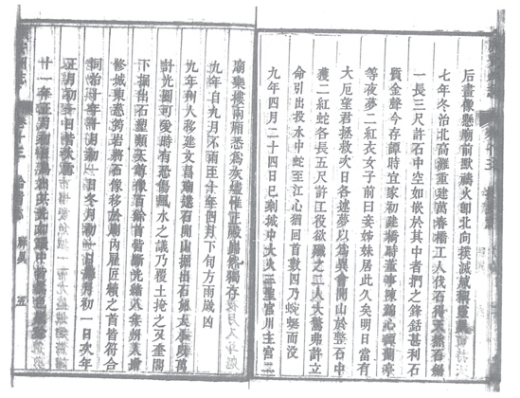 Above: Chinese report of a giant naked-eye sunspot group on February 9, 1872. [Ref]
Are we overdue for another Carrington Event? Maybe. In fact, we might have just missed one.
In July 2012, NASA and European spacecraft watched an extreme solar storm erupt from the sun and narrowly miss Earth. "If it had hit, we would still be picking up the pieces," announced Daniel Baker of the University of Colorado at a NOAA Space Weather Workshop 2 years later. "It might have been stronger than the Carrington Event itself."
History books, let the re-write begin.

Realtime Aurora Photo Gallery
Free: Spaceweather.com Newsletter.
CAPT. KIRK BOBBLEHEAD (COLLECTOR'S ITEM): To support their crowdfunded research program, the students of Earth to Sky Calculus have launched James T. Kirk to the stratosphere onboard a cosmic ray balloon. Note the moon over Kirk's shoulder in this photo taken 36 km (118,100 ft) above Earth's surface: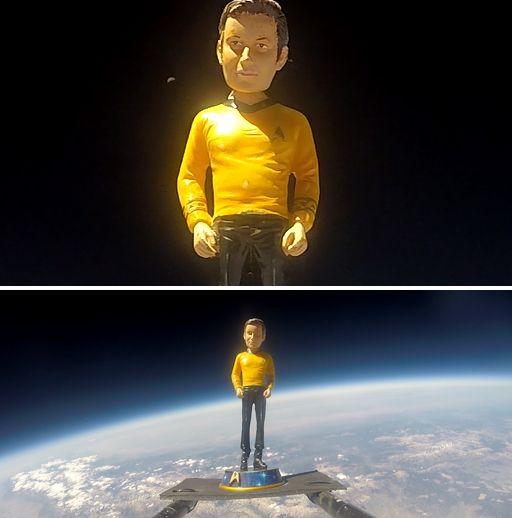 You can have him for $170.10. The price is the serial number of the Enterprise, NCC1701, divided by 10. The students are selling Kirk to buy more helium! He comes with a greeting card showing the high-quality resin bobblehead in flight and telling the story of his journey to the stratosphere and back again.
Far Out Gifts: Earth to Sky Store
All sales support hands-on STEM education
---
Realtime Space Weather Photo Gallery
Free: Spaceweather.com Newsletter
Every night, a network of
NASA all-sky cameras
scans the skies above the United States for meteoritic fireballs. Automated software maintained by NASA's Meteoroid Environment Office calculates their orbits, velocity, penetration depth in Earth's atmosphere and many other characteristics. Daily results are presented here on Spaceweather.com.
On Sept. 1, 2020, the network reported 6 fireballs.
(6 sporadics)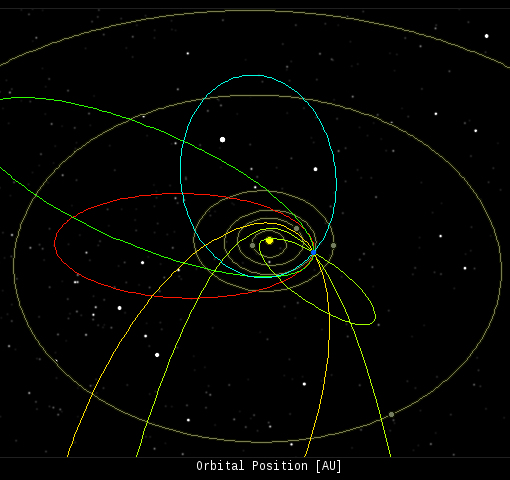 In this diagram of the inner solar system, all of the fireball orbits intersect at a single point--Earth. The orbits are color-coded by velocity, from slow (red) to fast (blue). [Larger image] [movies]
Potentially Hazardous Asteroids (
PHAs
) are space rocks larger than approximately 100m that can come closer to Earth than 0.05 AU. None of the known PHAs is on a collision course with our planet, although astronomers are finding
new ones
all the time.
On September 1, 2020 there were
2037
potentially hazardous asteroids.

Recent & Upcoming Earth-asteroid encounters:
Asteroid

Date(UT)

Miss Distance

Velocity (km/s)

Diameter (m)

2020 QQ2

2020-Aug-27

8.6 LD

6.2

16

2020 QA6

2020-Aug-27

6.3 LD

5.8

20

2020 QV6

2020-Aug-28

10 LD

20.9

115

2020 QX6

2020-Aug-31

1.2 LD

9.8

6

2020 QG5

2020-Sep-01

7.8 LD

14.2

27

2011 ES4

2020-Sep-01

0.3 LD

8.2

30

2020 PG6

2020-Sep-02

5.9 LD

6.6

14

465824

2020-Sep-06

19.4 LD

14

162

2020 PT4

2020-Sep-08

4.9 LD

12.6

37

2012 RM15

2020-Sep-12

14.9 LD

9.8

45

2017 US

2020-Sep-13

17.3 LD

5.9

21

2020 QL2

2020-Sep-14

17.9 LD

10.6

71

2014 QJ33

2020-Sep-17

6.7 LD

8.7

65

2017 SL16

2020-Sep-20

8.9 LD

6.4

25

2001 GP2

2020-Oct-01

6.1 LD

2.2

15

2010 UC

2020-Oct-04

14.6 LD

3.2

12

2019 SB6

2020-Oct-07

11.9 LD

7.6

16

2018 GD2

2020-Oct-13

16.4 LD

6.7

5

2017 UH5

2020-Oct-20

8.9 LD

5.9

18

2018 VG

2020-Oct-21

15.1 LD

6.7

12

2017 TK6

2020-Oct-24

17.3 LD

12.4

41

2008 GM2

2020-Oct-25

17.7 LD

3.6

8

2020 QD5

2020-Oct-26

10.1 LD

8.6

79

2020 OK5

2020-Oct-29

6.4 LD

1.3

26

Notes: LD means "Lunar Distance." 1 LD = 384,401 km, the distance between Earth and the Moon. 1 LD also equals 0.00256 AU. MAG is the visual magnitude of the asteroid on the date of closest approach.

| | |
| --- | --- |
| | Cosmic Rays in the Atmosphere |

SOMETHING NEW! We have developed a new predictive model of aviation radiation. It's called E-RAD--short for Empirical RADiation model. We are constantly flying radiation sensors onboard airplanes over the US and and around the world, so far collecting more than 22,000 gps-tagged radiation measurements. Using this unique dataset, we can predict the dosage on any flight over the USA with an error no worse than 15%.

E-RAD lets us do something new: Every day we monitor approximately 1400 flights criss-crossing the 10 busiest routes in the continental USA. Typically, this includes more than 80,000 passengers per day. E-RAD calculates the radiation exposure for every single flight.

The Hot Flights Table is a daily summary of these calculations. It shows the 5 charter flights with the highest dose rates; the 5 commercial flights with the highest dose rates; 5 commercial flights with near-average dose rates; and the 5 commercial flights with the lowest dose rates. Passengers typically experience dose rates that are 20 to 70 times higher than natural radiation at sea level.

To measure radiation on airplanes, we use the same sensors we fly to the stratosphere onboard Earth to Sky Calculus cosmic ray balloons: neutron bubble chambers and X-ray/gamma-ray Geiger tubes sensitive to energies between 10 keV and 20 MeV. These energies span the range of medical X-ray machines and airport security scanners.

Column definitions: (1) The flight number; (2) The maximum dose rate during the flight, expressed in units of natural radiation at sea level; (3) The maximum altitude of the plane in feet above sea level; (4) Departure city; (5) Arrival city; (6) Duration of the flight.

SPACE WEATHER BALLOON DATA: Approximately once a week, Spaceweather.com and the students of Earth to Sky Calculus fly space weather balloons to the stratosphere over California. These balloons are equipped with radiation sensors that detect cosmic rays, a surprisingly "down to Earth" form of space weather. Cosmic rays can seed clouds, trigger lightning, and penetrate commercial airplanes. Furthermore, there are studies ( #1, #2, #3, #4) linking cosmic rays with cardiac arrhythmias and sudden cardiac death in the general population. Our latest measurements show that cosmic rays are intensifying, with an increase of more than 18% since 2015:

The data points in the graph above correspond to the peak of the Regener-Pfotzer maximum, which lies about 67,000 feet above central California. When cosmic rays crash into Earth's atmosphere, they produce a spray of secondary particles that is most intense at the entrance to the stratosphere. Physicists Eric Reneger and Georg Pfotzer discovered the maximum using balloons in the 1930s and it is what we are measuring today.

En route to the stratosphere, our sensors also pass through aviation altitudes:

In this plot, dose rates are expessed as multiples of sea level. For instance, we see that boarding a plane that flies at 25,000 feet exposes passengers to dose rates ~10x higher than sea level. At 40,000 feet, the multiplier is closer to 50x.

The radiation sensors onboard our helium balloons detect X-rays and gamma-rays in the energy range 10 keV to 20 MeV. These energies span the range of medical X-ray machines and airport security scanners.

Why are cosmic rays intensifying? The main reason is the sun. Solar storm clouds such as coronal mass ejections (CMEs) sweep aside cosmic rays when they pass by Earth. During Solar Maximum, CMEs are abundant and cosmic rays are held at bay. Now, however, the solar cycle is swinging toward Solar Minimum, allowing cosmic rays to return. Another reason could be the weakening of Earth's magnetic field, which helps protect us from deep-space radiation.

| | |
| --- | --- |
| | The official U.S. government space weather bureau |

| | |
| --- | --- |
| | The first place to look for information about sundogs, pillars, rainbows and related phenomena. |

| | |
| --- | --- |
| | Researchers call it a "Hubble for the sun." SDO is the most advanced solar observatory ever. |

| | |
| --- | --- |
| | 3D views of the sun from NASA's Solar and Terrestrial Relations Observatory |

| | |
| --- | --- |
| | Realtime and archival images of the Sun from SOHO. |

| | |
| --- | --- |
| | from the NOAA Space Environment Center |

| | |
| --- | --- |
| | fun to read, but should be taken with a grain of salt! Forecasts looking ahead more than a few days are often wrong. |

| | |
| --- | --- |
| | from the NOAA Space Environment Center |

| | |
| --- | --- |
| | the underlying science of space weather |

To find reviews of new online casino sites in the UK try The Casino DB where there are hundreds of online casino reviews complete with bonuses and ratings.

Get a bonus when playing at a new casino in the UK. The Genie got you covered! 

Looking for a new online casino? Try Casimpo the new site dedicated to making online casino simple, or check out the new Avenger Slots Casino and Slot Strike Casino Sites with over 500 online slots and casino games. .

| | |
| --- | --- |
| | These links help Spaceweather.com stay online. Thank you to our supporters! |