EMERGING MOON: Tonight, August 30th, at 11:13 p.m. EDT (8:13 pm PDT), Jupiter's moon Io will pop out of Jupiter's shadow a smidgen to the east of the giant planet. This is your chance to watch an alien world materialize in the darkness--very cool. Point your telescope due south after sunset: sky map.
EARLY WARNING: NASA's STEREO-B spacecraft follows Earth around the sun, lagging behind our planet by 33o ("B" stands for "behind"). This allows the spacecraft to see a portion of the sun we on Earth cannot. Here is an example: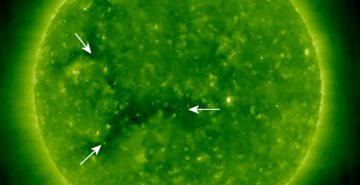 The sprawling coronal hole, photographed this morning by STEREO-B, is only partially visible from Earth. STEREO-B thus provides an early warning system: The coronal hole is spewing a solar wind stream that will eventually reach our planet. STEREO-B reveals the hole's location, its full extent, and the likely dates of solar wind impact: Sept. 3rd - 5th. High latitude sky watchers, mark your calendar for auroras.
August 2008 Aurora Gallery
[Science@NASA: Plasma Bullets Spark Northern Lights]
MORE VOLCANIC SUNSETS: This weekend, observers around Europe are reporting the same "volcanic sunsets" widely observed last week in North America. "The evening sky on Aug 29th was conspicuously purple," reports Marco Langbroek of Leiden, the Netherlands. "This was probably due to aerosols in the stratosphere spewed by the August 7th eruption of the Kasatochi volcano in the Aleutian Islands." He photographed the display using his Canon 450D: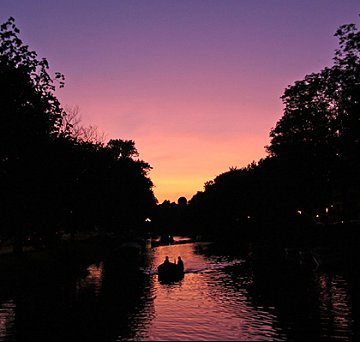 Michiel de Boer of Amstelveen, the Netherlands, was on vacation in the USA last week. "I witnessed the volcanic sunsets there," he says, "and these look just the same. The 'smoke' of the Alaska volcano seems to be moving around the globe."
more images: from Radek Grochowski near Świdnica, Poland; from Roy Keeris of Zeist, The Netherlands; from Victor van Wulfen of MVC Berlicum, the Netherlands; from Jeremy Housman of Ramsgate, Kent, UK; from Darin Brunin of Lawrence, Kansas; from Mark D. Marquette of Boones Creek, Tennessee; from Mark Wloch of Erie, Michigan;
UPDATE: The volcanic sky show continues over parts of the USA. Sky watcher Doug Zubenel sends this report from Kansas on Aug. 30th: "The last two days have brought a gradual increase in both the density and overall sky coverage of volcanic ash moving over area. Last night's sunset was spectacular--the whole western sky was bright orange. We may have an incredible photo-op on the evenings of Sep. 1st and 2nd when the crescent Moon joins Venus and Mars in the western sky."
---