SATURN AT NOON: Looking for Saturn? Don't. You'll hurt your eyes. The ringed planet is only 5o from the sun. The Solar and Heliospheric Observatory is monitoring the convergence using its coronagraph to block the glare. Click here to see Saturn at noon.
AURORA WATCH: A few nights ago in northern Canada, the sky lit up with vivid green auroras. There was no particular reason. Photographer Sylvain Serre of Salluit, Quebec, lives under Earth's auroral oval where the slightest shift of solar wind can spark a midnight display like this: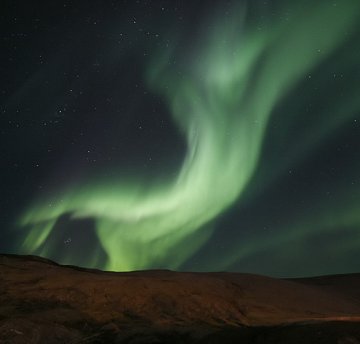 "I made this 8-second exposure on Aug. 26th using my Canon EOS 30D set at ISO 1600," says Serre. "After a quiet start, the northern lights were very bright and I didn't regret [being out and about] so late at night."
Now imagine what a real gust of solar wind could do. One is coming, due to hit Earth on Sept. 2nd or 3rd. High latitude sky watchers should be alert for auroras on those dates.
August 2008 Aurora Gallery
[Science@NASA: Plasma Bullets Spark Northern Lights]
ICE COLD SUNRISE: Last week, for the first time since landing, night fell on Phoenix. The martian arctic sun dipped behind a slight rise to the north of Phoenix's landing site, dropping the temperature to -119o F and bringing 30+ minutes of darkness to the solar-powered lander. Fortunately, the sun came right back up again: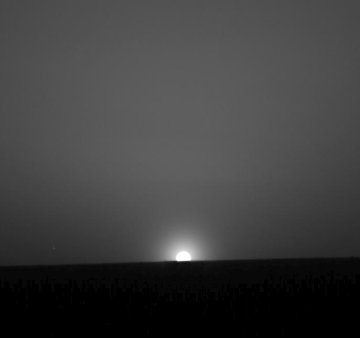 Phoenix snapped this sunrise shot on August 25th using its Surface Stereo Imager. More information about the photo may be found here.
Phoenix's batteries remain fully charged, but they won't remain so forever. Seasons are changing on Mars and by April 3, 2009, the descending sun will disappear for good. Night and frigid cold will envelop Phoenix for more than 3 months, probably bringing the mission to an end. On the other hand, NASA's Mars landers have proven remarkably tough; perhaps Phoenix will revive itself after the long night. No one knows. Meanwhile the digging continues.
---